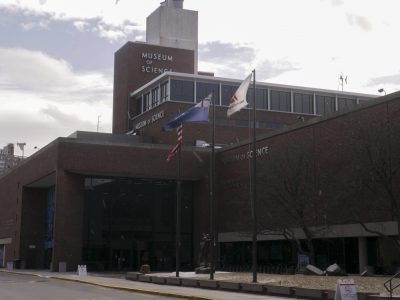 The Museum of Science started this year's Pi Day celebrations early on Saturday by organizing the Boston Pi Day pie toss in a quest to break the Guinness World Record for most shaving cream pies thrown at an event, which is currently 1180 pies.
No pies were wasted in the process, as all proceeds were donated to the Museum of Science.
"The Museum of Science has always used Pi Day as a fun time to celebrate and [raise money]," said Todd Sperry, the SVP of marketing strategy and communications at the Museum of Science. "So, we thought, let's do something different, let's try and break a world record and let's come down to city hall plaza and throw pies at one another."
Although the number of pies thrown ended at approximately 800, it was still enough to break the North American record, according to Sperry.
The crowd gathered around the tables, with approximately 50 people to each table, to build the shaving cream pies they later all tossed together.
A representative from The Guinness Book of World Records was present to monitor the event and record the new record, if participants succeeded in their efforts.
"According to The Guinness Book of World Records, we had a continuous minute to minute and a half of pi throwing," said Aaron Buzay, the associate vice president of advancement operations at the Museum of Science.
"It was a really fun family friendly event," said Lynnelle Pittet, 38, of Brighton. "I mean, how often do you get a chance to throw shaving cream pies at each other? It was great!"
Sperry agreed and explained that the "irrationality" and "fun-filled nature" of the idea were major motivators behind making it happen.
"It's kind of funny because the number 'pi' is an irrational number, so we thought, 'What's the most irrational thing we could do to raise money for STEM learning?" And that was to come down here and try to break the record," he said.
Sperry said all proceeds from the Boston Pi Day's fundraising efforts, both at the pie toss and the events at the museum on Wednesday, will go to supporting access to STEM education for kids.
He explained that on actual Pi Day, the whole museum would be celebrating throughout the exhibits, starting first thing in the morning with yoga.
"For the first time ever, we'll open up the museum and do yoga sessions in our brand-new lobby. And then throughout the day we'll have activities for kids and adults in pretty much every corner of the museum," Sperry said.
He said they hoped to raise some money in the process, and that if they got 3,141 donors or more, they would unlock a gift of $250,000.
"So really our goal is to get as many people as possible to have an awesome time, hopefully raise some money from each and every one of them, and have a very generous donor unlock a quarter million dollars when we reach pi. And we'll have some fun along the way," Sperry said.
Buzay explained different ways people could contribute to the cause.
People could simply give a gift online of $31, and they would get a T-shirt and admission to the museum with their donation. He said there were several other donation opportunities relating to Pi Day both on the Museum of Science website and on-site at the museum.
Sperry said he felt thankful for all the support the museum had received.
"The Museum of Science is just so grateful to the community," Sperry said. "It's always been here to support STEM learning for kids. But we really can't say enough to thank our sponsors and we hope to see everyone at the Museum of Science."