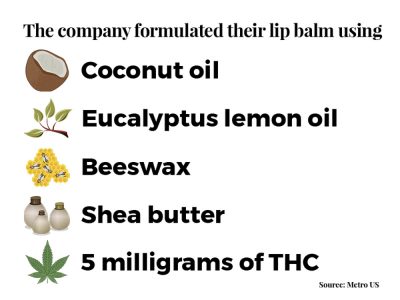 Marijuana dispensaries are constantly looking for new and inventive products to separate themselves from their competitors. Ermont, a Quincy-based dispensary, has done just that with their newest product, a THC-infused lip balm.
Known for their unique cannabis creations, including THC-infused hot chocolate mix and red pepper chive butter, the company formulated their new balm using coconut oil, beeswax, shea butter, eucalyptus lemon oil and five milligrams of THC.
Tetrahydrocannabinol, known as THC, is a chemical that produces the majority of marijuana's psychological effects. Once THC is consumed, it attaches to and activates neurotransmitters responsible for pleasure, memory, coordination and thinking.
Due to the small dosage of THC in Ermont's lip balm, the product will not induce severe psychoactive effects, Seth Yaffe, director of operations at Ermont, told Boston Metro. Rather, the balm is used for medicinal purposes, including relief from pain and dryness.
"From my experience in the medical cannabis field, the information I've gathered is that a topical would not be psychoactive unless it enters the bloodstream," said Joseph Gilmore, co-founder and outreach director at Massachusetts Recreational Consumer Council. "[The lip balm] would actually be more for inflammation and it would help with dryness."
Gilmore, currently a senior at the University of Massachusetts Boston, said he could see fellow college students using a lip balm topical.
"I could see college students using that because it's not very detectable," Gilmore said. "Topicals [are more discrete] because they don't really give off a strong marijuana odor."
Emma Talebzadeh, a sophomore at Wheelock College and Boston native said she's an avid supporter of medical marijuana and would use a product like Ermont's lip balm.
"I'm totally open to exploring different types of alternative medicine. If [THC] is going to help somebody feel better, then why fight it?" Talebzadeh said. "I would definitely rather use chapstick or eat a cake or something than to take potentially harmful pills or chemicals."
Margaret DeLorie, a senior in BU's College of Communication, has her concerns regarding the medicinal marijuana, despite the legalization of such products throughout the country.
"I'm not against it, per say," DeLorie said. "I just don't think there's enough evidence to support it yet. It's pretty easy to get, too, compared to more regulated medicines like [oxycodone]. I think that's why a lot of people like [medical marijuana]."
Talebzadeh said she believes products like this would already be more popular if it weren't for the interests of large pharmaceutical companies
"Honestly, I think the only reason medical marijuana isn't bigger is because the rich and powerful pharmaceutical companies don't want the competition."
This concern — that pharmaceutical companies don't want legalized cannabis — is not new according to Jay Wexler, a law professor at BU.
"Big pharma has contributed large amounts of money to anti-legalization efforts in a variety of states," Wexler said. "Luckily their efforts often fail."
Massachusetts is one of 29 states to have legalized the use of medical marijuana, despite conflicting evidence surrounding the effectiveness of medicinal cannabis products.
As far as cannabis on campus goes, most schools (including BU) have banned the substance from their grounds. It is unlikely, Wexler said, that schools will ever endorse legalized cannabis. Nonetheless, he added, students might still obtain medical marijuana.
"I would imagine that there are already many students around the country who attend colleges and universities in states that have legalized medical marijuana who are obtaining medical marijuana for use to relieve their symptoms and conditions," Wexler said.
For now, Gilmore said, novelty products like Ermont's lip balm offer not only a discrete method of using THC but also an important branding opportunity for local dispensaries.
"Consumer choice is very important in this industry. Different dispensaries have their own novelty products and consumers will shop around to find what they like," he said. "I do think it is good for stores to have their own signature products to differentiate themselves from other dispensaries."
Jenni Todd and Hannah Shearer contributed to the reporting of this article.