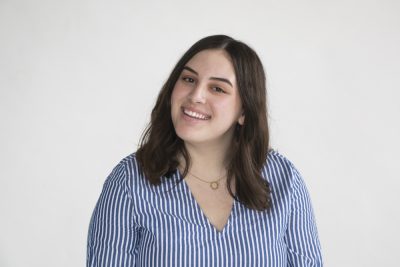 Less than three years ago, Jami Rubin graduated from Marjory Stoneman Douglas High School. Now a junior in the College of Fine Arts, Rubin is using her higher education to advocate against the gun violence that devastated her alma mater this February.
Rubin and Samantha West, also a CFA junior, have used their graphic design skills to create "Beginning the End," a combined booklet and a poster. Rubin and West plan on distributing the pamphlet at March for Our Lives Boston on March 24.
Attendees can display it as a poster during the march and then fold it into a booklet and take it home. They plan on distributing copies to many of the thousands of people expected to march.
Rubin and West are hoping the pamphlet will serve as a resource for all kinds of activists.
"Especially here at BU, it seems right now that almost everyone is looking for a way to get involved," West said. "So if you're a newbie activist or a veteran activist, there's information we're trying to provide that will be useful."
They aim to increase awareness by educating activists both on statistics and about politicians' actions concerning gun violence.
"It's hard to be bookmarking all of these links about what the [Centers for Disease Control and Prevention say] about gun violence, and what your senator says about gun violence," West said. "We're trying to take the most important, vital information from all of those different voices and put it into this very easily attainable booklet."
Rubin said she believes everyone should know who their representatives are and contact them to make their voices heard and to find out what is happening politically.
"The [National Rifle Association] represents five million Americans, but so many of us aren't behind that and all of the laws have been made in support of them because that's where the money is coming from," Rubin said.
Throughout history, West said, great social movements have relied on unifying images. She hopes the appealing design of "Beginning the End" will inspire people to get involved.
"All of the great social movements have something that's visual and recognizable," she said. "And creating something that is easy to look at and understand in a design sense helps it as a movement."
West and Rubin saw the power of design firsthand during a visit to Marjory Stoneman Douglas High School over spring break.
"We went down to Parkland and we drove by the school, and the entire perimeter was covered in 1,500 banners," West said. "That made the power of design really obvious. I mean it's something we do every day, but seeing that on such a large scale was really moving."
Rubin said she was deeply inspired by the students at MSD during their trip.
"I'm in awe every time I see something," Rubin said. "They've really realized the potential that they had with all the media that was there, and they've really utilized that to start this movement. It was started already but not at this scale, really."
Michelle Porche, a professor at BU's School of Education, said the personal accounts students are sharing on social media have been important to advancing the conversation around gun violence, but that integrating those stories into further research is crucial.
"We need to do more research," Porche said. "And we also need to combine that with people's stories. I think that what's been really effective is that we have students that are old enough and comfortable enough with social media to be able to tell their stories in a way that reaches a lot more people."
For now, West said, she hopes the pamphlet will help spread information about gun violence the same way social media has thus far.
"It's a piece of paper that has information on it, but we recognize that there is something important to be said, and we're trying our best to make it accessible," West said.