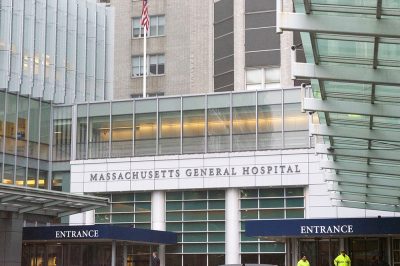 As the topic of disparity in health care accessibility has become prevalent nationally, researchers at Massachusetts General Hospital hope to turn the conversation toward what they believe is the more pressing issue: disparity in health care research.
Most recently, this matter was brought to light through MGH's study on the relationship between race and ethnicity and breast cancer diagnosis.
Dr. David Chang, a professor of surgery at Harvard Medical School and corresponding author on the report, said that research bias has existed throughout history and has serious health consequences for minority groups.
"Science is not something that should be biased," Chang said. "I think there is a sort of unspoken assumption that there's bias in the health care system. The problem is less about the delivery process … [and more about] the science behind the health care delivery."
The breast cancer study, Chang and co-author Dr. Sahael Stapleton both said, is a good example of bias not with administered care, but with research. Analyzing data from the Surveillance, Epidemiology, and End Results Program's database, their team focused on the stage of diagnosis in women aged 40 to 75 years between 1973 and 2010.
The team found a striking difference in the data on white and nonwhite women.
"We found 2 distinct distribution patterns of age at diagnosis for female breast cancers: white patients peak in the 60s, whereas nonwhite patients peak in their 40s," they wrote. "A higher proportion of nonwhite patients present with more advanced breast cancers at the time of diagnosis."
The findings underlined what Chang described as a larger issue of medical research being done on populations that aren't diverse.
In Chang and Stapleton's findings, minority women are at a disadvantage because screening guidelines were created based on data from majority white patients. A minority could receive perfect care, Change said, but because guidelines were not created with racial differences in mind, the patient would already be at a disadvantage.
"It's not just about breast cancer," Chang said. "It's about the fact that there is not enough diversity in how we construct knowledge in general and in science in particular."
Talks are currently underway with Harvard's administration to offer a new course entitled "Culturally Sensitive Science: Preventing medicine's contribution to social bias and disparity."
Stapleton said the goal is to help students approach research in a comprehensive, fair manner.
"The idea [is] that you should think about research from a culturally sensitive standpoint, or a gender sensitive standpoint, or an ethnically-sensitive standpoint," he said. "Encouraging students to not just implement the findings but also to go out there and be the people who define [them]."
Kadesh Daniels, a freshman in the College of Arts and Sciences on the pre-med track said the repercussions of flawed science outweigh those of flawed care.
"Given that I am in elementary level, it is constantly stressed that randomization is a critical component of research," Daniels said. "Therefore, to now be notified that research that is published is done with some form of selective barriers is borderline unfathomable to me."
Chang said more students should enter the research field and consider not just an M.D., but a research degree as well, whether it be a master's in public health or a Ph.D. While clinical medicine is diversifying, he said, the M.D./Ph.D. side isn't as much.
"When you don't have diversity, people just blame the other group for the problem," Chang said. "There's not enough people doing this kind of research and we just assume that what works in one population works [with] everybody."
Stapleton, who is pursuing an MBA at Harvard Business School, said other degrees could mesh with the medical field and bolster the movement toward diversification and reduce bias.
"You have to lead the desire for change … and get people motivated behind a common goal," he said. "And hopefully get people to come together to try to do things differently or at least explore the potential of thinking about things differently."