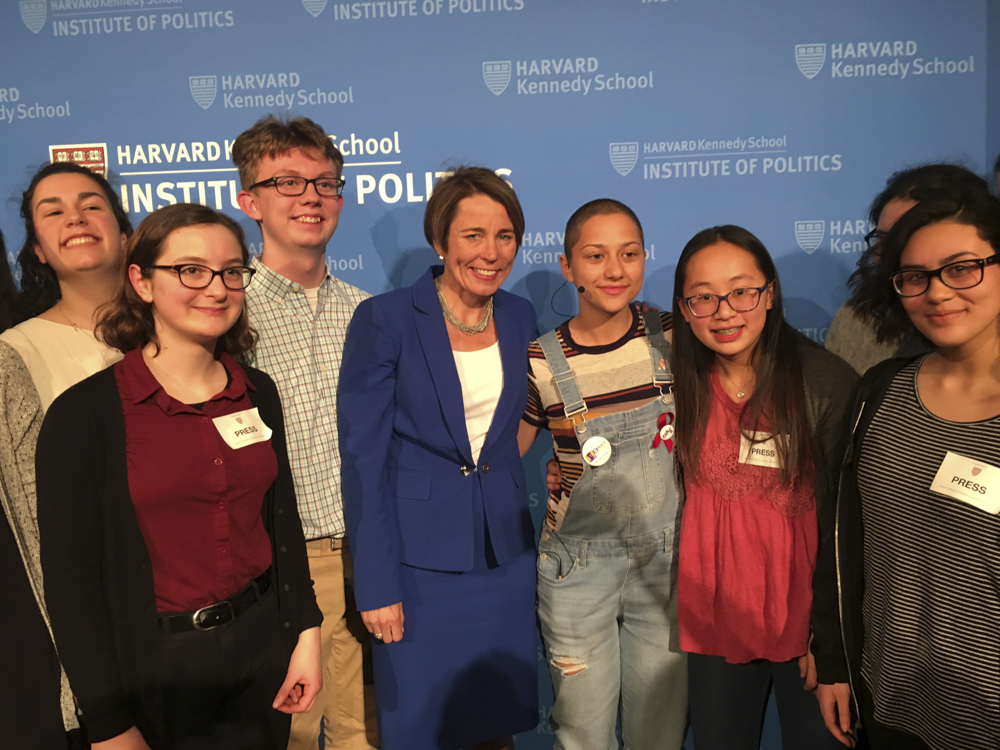 Six survivors of the February school shooting at the Marjory Stoneman Douglas High School spoke at a forum Tuesday night at the Harvard Kennedy School about advocacy and the socioeconomic disparity in the gun violence conversation.
The panelists included Marjory Stoneman Douglas seniors David Hogg, Emma Gonzalez and Ryan Deitsch, juniors Cameron Kasky and Alex Wind, and recent graduate Matt Deitsch. The conversation also revolved around their fight against the National Rifle Association.
Gonzalez, 18, began the panel by leading a moment of silence for all the victims of recent school shootings before explaining why it is important to her, coming from a place of privilege, to speak up for victims of gun violence everywhere.
She said speaking with students like Alex King, a senior at Chicago's North Lawndale College Prep High School who lost his nephew in a drive-by shooting last year, opened her eyes to the racial and socioeconomic divide that propels certain gun violence stories on national television, while lower income communities suffer in silence every day.
"[King] told us the first day in his entire life that he had ever felt safe was those hours that he spent in Parkland because his community and their community is not as safe as ours," Gonzalez said.
That experience inspired her to counter the divisions that exist within so many social movements by encouraging members of all communities affected by gun violence to join the movement and participate in the nationwide "March for Our Lives" on Saturday, Gonzalez said.
Matt, 20, Ryan's older brother, described reaching a similar realization after visiting Liberty City, Florida. He said that when a room of approximately 200 locals was asked if they had survived a gun violence situation or had lost someone to gun violence, every hand in the room shot up.
"The 7-year-old next to me held his hand up like it was nothing, like he just answers that question every day of his life and these kids — they're survivors," Deitsch said. "And they know more about this issue than us, but their trauma is the same as all my friends."
Wind, 17, said the Parkland shooting was no different than the tragedies in Orlando, Las Vegas or at Sandy Hook Elementary. He said the only difference was that it was him and his peers who were locked in closets, texting their families what they thought would be their final "I love you."
Returning to school made him remember the 17 lives that were lost on Feb. 14 and gave him strength to continue fighting for the anti-gun movement, Wind said.
"It's for honoring the past and it's for those that lost their lives in the tragedies and I think that's the best way to cope through this — to think … we're doing this for them and we're doing this for a cause and we're doing this for people," Wind said.
Kasky, 18, said that a primary focus for the students and one of their reasons for making frequent public appearances was because they knew there was no one who could tell their story better.
"You're not controlling our narrative," Kasky said. "…We were there. We are telling our story. We see past this facade that this is inevitable and this is the price of our freedom. We know that we can fix this, but we have to act now."
Ryan, 18, said he and Gonzalez learned about gun laws through their government class, where they developed the ability to speak professionally about gun-related issues. In particular, they learned about the NRA, which he said they are now "going head to head" with.
Although he and his classmates are advocating against the NRA, Kasky said he does not view gun violence as a partisan issue because politicians from both parties accept funding from the association.
"[NRA] lobbyists can't own our politicians," he said. "Sure, they own more Republicans than Democrats, but we're not letting Democrats that are funded by the NRA off the hook. Right now, we are talking about gun safety and gun legislation so anyone on any side who is not stepping in the right direction on that … that's who we're here to stand up against."
Hogg, 18, spoke about the need for local and federal legislators to act in accordance with public opinion and take substantial measures to end gun violence in America.
"What's important is that we make sure that we speak up to these congressmen and these local and state legislators and let them know that these are what their constituents want," Hogg said. "And if you choose not to just vote on the side of human lives that are instantly taken from thousands of people every year, that's OK because we'll vote you out."
Massachusetts Attorney General Maura Healey, who attended the forum, told The Daily Free Press that she is proud of the Marjory Stoneman Douglas students for reaching "the heart of the issue" and forcefully countering the NRA.
"The vast majority of Americans believe in common sense reforms, but unfortunately, the NRA has really controlled too much of the political class and what these students are saying is that that is going to change," Healey said after the panel. "I am confident listening to them, hearing them, spending some time with them, that they're the ones who are going to see this through and make this happen."