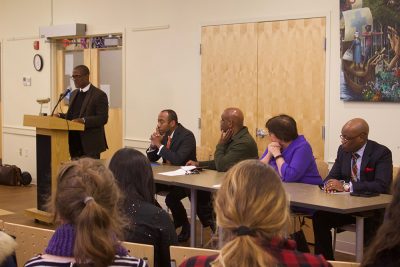 At the Boston University School of Theology's "Moral Courage and Guns" panel, moderator Andrew Kimble began by taking a brief survey.
He asked first if anyone had ever been threatened by with a gun or lost a family member or a friend to gun violence, then asked who had any positive experiences with a firearm, like hunting, and finally asked who believed that gun regulation needs to change. Nearly the entire room raised their hands when asked the last question.
The panel was hosted by STH and co-sponsored by the Religion and Conflict Transformation program, Community Life and the Association of Black Seminarians. A crowd of about 40 students and faculty came to listen to the discussion.
Emily Ling, a graduate divinity student in STH and program administrator for the Religion and Conflict Transformation program, helped organize the discussion. Ling said the panel was organized to provide a diverse range of perspectives on the issue.
"This topic particularly feels very overwhelming to really know where to start, and … for a lot of different reasons, our country really isn't able to address it," Ling said. "That's why it's 'Moral Courage and Guns.' It's what really needs to be happening from a courageous standpoint of trying to see this conversation in a different [light]."
Throughout the evening, panelists shared various ways they believed gun culture could change.
"This conversation takes place in the context of a pervasiveness of the technology in terms of guns but also pervasive gun culture," said Cornell Brooks, a visiting law professor.
Judith Oleson, co-director of the STH Religion and Conflict Transformation program, said she believes the wording of the debate around gun control needs to change.
"It's so important that we frame this issue and use the language of violence reduction instead of gun control for many reasons," Oleson said. "The word 'control' sets off a whole level of resistance and opposition and belief that you're trying to take the guns away."
Abrigal Forrester, director of community action at Madison Park Development Corporation, spoke more about who the discussion should be targeting and focusing on.
"We live in a society that honors an issue agenda based on the who," he said. "When we start talking about policy and legislation, we have to talk about also who are we trying to save? Are we really trying to save everyone from gun violence?"
Forrester also addressed recent chatter about arming teachers in schools, saying how he does not believe this is an effective solution.
"If we arm teachers with guns, what stops someone from saying, 'I'll wait until school ends to shoot people as they leave the school'," Forrester said. "We're still not dealing with the issue. We're dealing with the byproduct of the real, true problem."
Weighing in, Dean of Students Kenneth Elmore said that society cannot wait for government to cause change. It has to come from the people.
"We have got to just do this ourselves and not wait for government to do this," Elmore said. "We have got to take leadership in our own communities to say, 'Stop, enough'."
One of Elmore's last comments elicited laughs throughout the room.
"I like to think of myself as a cosmopolitan person, as a civil person, as a person who can look at data and facts," Elmore said. "I just don't see how in 2018 we think that we can let people own weapons."
Following the panel, Brooks said he hopes people walked away from the discussion more hopeful about the future of gun control and the conversation around firearms policy in America. Brooks said students seeking opportunities to advocate for gun restrictions should research more into social justice and gun violence.
"Make social justice a research topic, make gun violence a research topic," he said. "Then take your ideas, your analysis and move it into the realm of organization and advocacy and reform."
Emelia Attridge, a graduate divinity student in STH, said she walked away with a new sense of hope after hearing the different viewpoints of the panelists.
"That's something that you sometimes feel like gets lost in a national conversation," Attridge said. "The panelists I felt did a really good job of addressing the different compounding multiplicities of the issue."