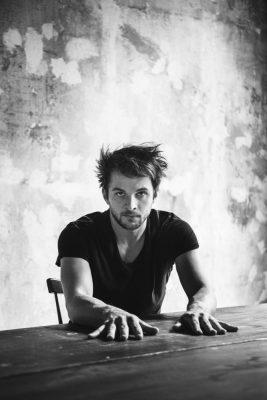 If you called Nils Frahm a pianist, you would be making a mistake. The German musician has touched genre upon genre since his 2005 debut. He delivered complex piano riffs on "Wintermusik," created ambient minimalism on "Felt" and resurrected classic German progressive electronic styles on his 2018 album "All Melody."
But his best effort, perhaps, is his 2013 live compilation "Spaces." The album blended grandiose piano solos with cinematic synth crescendos. This captivating style made the 11-track album worthy of its 76-minute runtime. "Spaces" shocked the modern classical world, earning widespread critical acclaim including a 90/100 rating on Metacritic.
If an artist's best album is a live one, their concerts should reflect that. Frahm's concert at the Sinclair on March 18 was no exception.
The performance was a complete redefinition of the one-man show. The Sinclair stage was adorned with a myriad of different acoustic and electronic instruments. It included everything from a classic Fender Rhodes electric piano to a nine-foot-long Yamaha CF-X. His ensemble even included a custom-built pipe organ that was so large he had to set up recording equipment and a MIDI keyboard to control it from backstage.
That "one-man show" mentality was evident from when, just 40 minutes after doors opened, Frahm took the stage, looking giddy in his black beret. There were no openers. No additional musicians took the stage. With the exception of a lights team, it was just Frahm and his instruments. From the moment he started playing "The Whole Universe Wants to Be Touched," it was clear that his performance was going to be special. He transitioned into the more involved "Sunson." As the percussion and pan flute arpeggiators kicked in, the crowd was ecstatic.
Following the introduction, Frahm told the crowd a story about his first trip to Cambridge in 2010. He was touring the United States for the first time with his friend, ambient artist Greg Haines. When they came to Cambridge, however, they had no venue booked, so they settled for an open mic performance at a local bar. By the time they took the stage, they were several drinks in. This would curtail their performance. Frahm recalled much of the audience leaving once he started playing piano.
As a consequence, Frahm promised his performance would be worth Sunday's crowd's attention. His statement held true. Following an emotional piano performance of "My Friend the Forest/Familiar," he returned to his synth-heavy material. He was visibly captivated by the music. With every movement across the stage, his gyrations became stronger. It showed his true passion for the music but, at the same time, conveyed something more comical. It was a 35-year-old man who appeared as though he was air-humping his instruments.
He finally sat down at his grand piano to play his song "Hammers," but that didn't mean he set his electronic instruments aside. With backing synths produced by his Korg PS-3100, Frahm played the song furiously. As lights focused on his face, sweat could be seen dripping from his face onto the keys.
Before performing his final song, Frahm addressed the crowd one last time. He had played only seven songs, but the concert had lasted more than an hour. Frahm is well aware of how long his songs drag on. He said that if he played all the songs audiences chanted, he would be playing until he died. Instead, he spoiled the remainder of his performance. He talked about how he'd walk away for 10 seconds and come back for an epic encore.
Following his performance of the incomparable song "Says," Frahm exited the stage for his planned 10 seconds, returning with a glass of white wine before his most unique performance of the night. Frahm went to one side of the stage and grabbed two mallets. He revealed that they were actually toilet brushes. As he did so, the crowd cheered in excitement for his closing performance of "For — Peter — Toilet Brushes — More."
He brought the brushes over to the Yamaha and proceeded to drum on his $180,000 grand piano with them, hitting the internal strings and the outside to create varying percussion sounds. This closer was perhaps the most emphatic statement of the night; all Frahm used was a piano and two ordinary household objects for a remarkable closer.
The performance was absolutely mesmerizing. Every aspect showcased Frahm's virtuosity and musical ingenuity. He maximized the potential of the dozens of instruments he had on stage, culminating in an absolutely electrifying performance. Frahm does not need bombastic visuals or backing vocals to lead a captivating concert. He just needs his music (and a couple items from Bed Bath and Beyond).