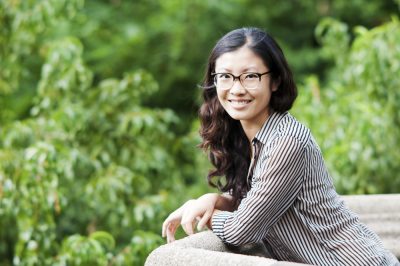 Boston University alumna Weike Wang has received the 2018 Whiting Award for fiction for her 2017 novel "Chemistry."
The Whiting Award is an annual award given by the Whiting Foundation to 10 writers of fiction, nonfiction, poetry and drama. Each award includes $50,000, and is "based on early accomplishment and the promise of great work to come," according to the organization's website.
Courtney Hodell, director of literary programs at the Whiting Foundation, wrote in an email through a publicist that the award, primarily given to up-and-coming authors, supports the foundation's mission of encouraging new writers.
"Our mission is to support emerging voices in literature and the humanities," Hodell wrote, "and so a prize to recognize writers before they've been recognized by the culture at large dovetails perfectly with the foundation's purpose."
The prize money comes from the foundation's endowment, started by philanthropist Flora Whiting, who, Hodell wrote, had a lifelong interest in culture.
The award winners are determined by six anonymous expert judges who look for "arresting, original work that shows the promise of even greater accomplishment to come," Hodell wrote.
Wang won the award for her 2017 novel "Chemistry," which she describes as "a coming of age novel of a young Asian-American scientist."
"She is going through a moment of crisis in her life," Wang wrote in an email. "It is an internal novel with threads of science weaved throughout."
The award selection committee praised Wang's book in a written statement.
"… Wang takes apart what we know about the immigrant experience, … puts something bold and new in its place … and captures her narrator's struggle to love and forgive, exploring with tenderness and rigor the provisionality of the stories we use to understand the world around us," the committee wrote.
Although "Chemistry" is what primarily won Wang the award, Hodell wrote that it was Wang's career as a whole that caught the judges' eyes.
"Rather than a prize for an individual work, this is a prize for a writer's early body of work and a sense of what they might be able to do if they were given freedom to create and financial support," Hodell wrote.
Wang wrote that when she was told about the award, she was shocked.
"[It was] surreal," Wang wrote. "I actually didn't believe it REALLY until I got to the ceremony, even though I had known for months."
According to a Whiting Foundation press release, Wang and the other winners and honored guests, attended an award ceremony on March 21 in New York City.
Wang is no stranger to recognition, as young as she may be. She was also placed on the 2017 "5 Under 35" author list by the National Book Foundation last year. That recognition came with $1,000.
Wang wrote that she plans to use the grant money from the Whiting Award to invest and to take a sabbatical year to write. She is already working on a second novel, as well as multiple shorter pieces.