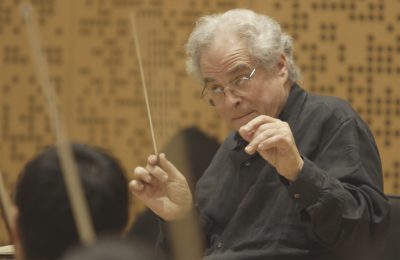 Classical musicians and composers are often ruthlessly committed. No one would be able to play Chopin's "Revolutionary Etude" or Liszt's "Hungarian Rhapsody No. 2" after a day of practice. Learning virtuosity is a daunting process, and those who pursue this level of mastery are sometimes driven to insanity (Mozart, Tchaikovsky and Satie are not known as geniuses for being level-headed).
If 2014's Oscar-winning "Whiplash," which follows a young drummer's pursuit of perfection, was an ode to music's painful side, "Itzhak" documents music's lighthearted side. It follows world-renowned violinist Itzhak Perlman and his chipper personality. But though the film escapes traditional tense aspects of movies about classical musicians, its focus is too broad at times.
Perlman is an Israeli-American violinist whose storied career is remarkable. Afflicted by polio during his childhood, Perlman recovered and soon learned to walk on crutches. As the film team follows him through his everyday life, small clips of his rise to fame play, whether it be his performance on "The Ed Sullivan Show" at age 13 or his live performances in Israel throughout the early '70s. The icing on the cake is a clip that shows him receiving the Presidential Medal of Freedom from former President Barack Obama.
There is no narrator or informational text in the documentary. All questions are answered by Itzhak and his wife Toby as they go through their daily routines.
Their lives are eccentric. Toby and Itzhak bring up their obsession with pickles often, including one scene involving an old friend who travels to their New York City home all the way from Boston to deliver jars of them. The woman dresses in green and has every variety of pickle imaginable. Then there is a scene toward the end in which Itzhak entertains a group of children while dressed as a clown named Ding Dong. He does this as part of his Perlman Music Program in Shelter Island, New York. Hordes of aspiring musicians come to learn from him at his program. Still, this is only a fraction of his schedule.
Throughout the rest of the year, Itzhak teaches students at Juilliard, conducts the school's orchestra and tends to his own musical ventures. He is shown recording a Bach duet with pianist Martha Argerich, playing the national anthem at MetLife Stadium before a baseball game, and even performing with Billy Joel at Madison Square Garden. He does all this while travelling on his electric scooter and occasionally crutches.
As interesting as his life is, though, the documentary takes an odd angle. There's little tension, if any. It feels less like a documentary feature and more like a long-form news profile or even a history documentary. Granted, it would be a very well-crafted news profile.
The focus of "Itzhak" is far more biographical than topical. The film's integrity falters as a result. There's not enough focus on Itzhak's smaller qualities.
For instance, earlier parts of the film spotlight Itzhak's polio affliction and how it was his main impediment as a young violinist. No one took him seriously, and his non-musical parents almost gave up on him. The filmmakers could have expanded on this so much more, but instead it is just a bit among other bits of information given throughout the documentary.
The film's biggest strength is Itzhak's personality. There are almost no moments where he isn't upbeat. It's so notable because of how he balances out his meticulous standards for how his violin performances sound with his positive demeanor. It gives the impression that Itzhak could look back at his arduous days of practice and laugh. His worst days are behind him and he ruminates on how all his efforts toward greatness came to fruition.
"Feel-good documentary" sounds almost paradoxical, but it works for "Itzhak." Audiences should not go into the film expecting a gripping nail-biter. Rather, they should enjoy a solemn tribute to one of classical music's most legendary and unique interpreters.