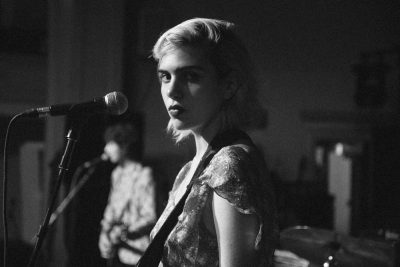 In a 2015 interview with Metro, Julia Cumming, lead vocalist and bassist for Sunflower Bean, said the band's name made their music seem like it was "going to be kind of fuzzy and weird."
Their first album, "Human Ceremony," unfortunately fit that description. They were trying to blend too many things –– not only two vastly different styles of music, but also the voices of Cumming and Nick Kivlen, the band's other lead vocalist.
On their second album, "Twentytwo in Blue," released Friday, it seems they've figured it out, producing a somewhat disjointed but ultimately fun, psychedelic album capturing what it's like to be 22 in 2018. Their message is summarized on the album's best and title track, "Twentytwo."
Where Cumming's voice was often muddled by instrumentals on "Human Ceremony," here her vocals glide over the strings and drums.
In lieu of a traditional chorus, Cumming sings a simple line. It's a riff on one of Dylan Thomas's most famous poems where he writes, "do not go gentle into that good night … rage, rage against the dying of the light." Instead, Cumming sings, "I do not go quietly / into the night that calls me / even when I'm alone."
She turns the words into a refrain adept for a twentysomething — being alone and afraid but refusing to back down. Cumming's performance channels Stevie Nicks on this song, creating a sublime experience that still feels timely.
Many of the songs, like "Twentytwo," retain an ethereal quality. "Only a Moment" slows down the tempo. Initially, it sounds haunting and almost unsettling, but then Cumming sings, "you're exactly where you're supposed to be," and suddenly it's reassuring. Much of the modern twentysomething experience is confusing and nerve-wracking. The beauty of "Twentytwo in Blue" is that it recognizes this yet remains calm anyway.
On "Any Way You Like," Cumming and Kivlen harmonize, but instead of sounding muddled, their voices are in perfect tandem. A lot of the songs on this album sound unfortunately similar, a bit too grounded in their influences.
"Twentytwo in Blue" often comes across as dissonant. Much of the album is slow and psychedelic, while "Burn It," "Puppet Strings" and "Sinking Sands" all sound like typical fast-paced indie rock songs. It's a strong contradiction in style, reflecting the vast differences in their influences. Both of these styles are more or less well-executed, but Sunflower Bean alternates at will between them, creating a disjointed album.
"Crisis Fest" encapsulates the flaws and triumphs of Sunflower Bean's rock influences best. It's a rollicking call to arms about the current political climate and the challenges the millennial generation faces, referencing "80 grand" in student debt and "a thousand men in uniform."
After Donald Trump was elected president, there was a common rallying cry amongst progressives, reinforcing the idea that tough times lead to great art. Sunflower Bean seems to have taken this to heart, using rock to do what it does best, reminding us that "if you hold us back / you know that we can shout." Admittedly, when Cumming sings, "2017 we know / reality's one big sick show," it might be a bit too direct. That said, our current political climate is an undeniably large component of what coming of age is like right now, one that Sunflower Bean does not shy away from.
The flaws of their first album pop up every so often, although not glaringly so.
On "Human For," heavy guitar overpowers Cumming's remarkable voice, Sunflower Bean's main strength. It's ethereal and soulful, while Kivlen's is raspy and deep. In combination, they either sound disjointed or harmonious. Where "Sinking Sands" and "Any Way You Like" take advantage of this tandem, songs like "I Was A Fool" and "Oh No, Bye Bye" sound cluttered.
The primary difference between "Twentytwo in Blue" and its contemporaries is its specificity of feeling. The album's title comes from the fact that all three band members are 22. It's a confusing and frightening time for them, but Sunflower Bean implores its listeners both to remain calm and to spring to action in a record that's dissonant but shines in spite of that.