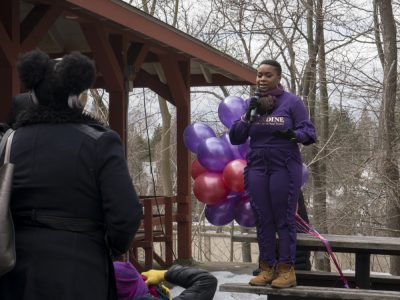 Bernadine Desanges has built her brand on the idea of living and speaking unapologetically. Also known as Bernadine Truth, the Boston native launched her blog and website, bernadinetruth.com, last September.
The blog reflects her experiences as a black woman, a sexual assault survivor and "a person who doesn't live up to her own New Year's resolutions."
Drawing on her own story and mission of empowerment, Desanges hosted a "100 Women Project: Survivors in Solidarity" photoshoot on Sunday at Larz Anderson Park in Brookline. Survivors and allies of all ages and genders came from across the state to have their photographs taken with motivational messages.
"I am at a point in my life where I am a survivor, not a victim, and I want allies to understand the struggles and experiences of survivors to continue to support in a way that's healthy and really encouraging the person," Desanges said.
The photographs will be incorporated into Desanges' April blog post for Sexual Assault Awareness Month in April, along with the written reflections from attendees about advice, struggles and the purpose of their role in the greater conversation.
"This is a cause that is near and dear to my heart that I think a lot of women and men go through and a lot of people don't talk about," said Jana Dorsey, 27, a close friend of Desanges. "Last year was sort of the first time that it's become a national conversation, and I just think it's important. It's good to have a visibility campaign."
Dorsey volunteered to check in and register attendees, a job that included giving out pins enameled with Desanges' black and red logo.
She also gave everyone bright pink raffle tickets upon entering the pavilion where the photo shoot and activities took place. There, a basket of prizes was displayed filled with donated mugs, shirts, makeup and paintings with messages of positivity from local artists and businesses.
"I think Bernadine's done a really great job of showing the world that you can take your story, and you can inspire others to live their truths," said Wanda Medina, 28, of Quincy, one of the photographers in attendance.
Medina instructed attendees to write a message of empowerment on a white board with the hashtag "speak your truth" before taking their pictures. She said everyone was very open and willing to being photographed and that the bravery shown when people were sharing their stories was inspiring.
Amid the photoshoot, attendees mingled and sipped the provided coffee to stave off the cold outside. Survivors were identifiable by their purple clothing, while allies wore red, in accordance with the dress code posted online.
Desanges wore her purple with pride as she stood atop a picnic bench clad in frilly purple pants and a matching sweatshirt with her slogan, "Know your truths. Speak your truths" emblazoned in gold script on the back.
"I felt like I struggled as a young person in finding my voice and staying true to the person I was," she said to the crowd. "I felt weak, and I felt like a part of myself was stripped away from me without my choice. I used to feel like people only looked at me for sex, and with that state of mind, I felt like that was all I could amount to be."
She detailed her history of sexual assault growing up, which eventually led to her self-harming behaviors and suicidal tendencies. Her trajectory changed once she began counseling, she said, and it transformed her from a victim to a survivor. However, due to stigma around mental health in the black community, particularly in her Haitian family, the process was difficult.
Desanges' therapist, Laure Lindor, attended the event. Lindor said she came to support Desanges and others who might be struggling, especially those seeking clinical assistance in their journey to heal after sexual assault.
"It's a challenging kind of work, but at the same time, it's also beneficial to those survivors because that is a way for them to heal and to feel safe in a place where they can tell their story," Lindor said.
Desanges concluded her speech by inviting all of the attendees to huddle together in a large group hug and affirm their support for one another.
"I really believe in living life as a survivor, not a victim, because you can't be defeated by your life's circumstances," Desanges said. "Something happened to you, but you can overcome that. You will overcome that. It's a matter of time and taking care of your emotional and mental health in the process."