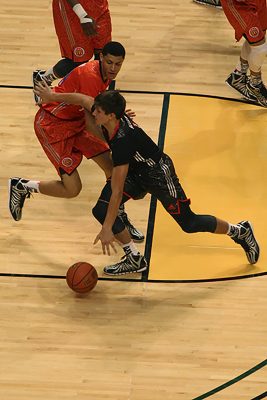 Duke University's 85-81 overtime loss to the University of Kansas Sunday night meant more than just one of the nation's top teams getting abruptly knocked out of the NCAA Tournament. It signaled the official end to the collegiate career of the most polarizing figure in amateur sports, Grayson Allen.
Let's be real, most college basketball fans are ecstatic they never have to see Allen's face ever again. Even long before the trio of tripping incidents that brought him suspensions and the loss of his captaincy as a junior, Allen was the blazing red target of Duke hatred.
As a Duke-sympathizer myself, I was never agitated by Allen. I respected him for being able to take harsh criticism on such an intense scale. But while watching Sunday's postgame press conference featuring Allen and Duke's head coach Mike Krzyzewski, a question came to mind: Was Allen's legacy important to college basketball?
I don't mean this in the sense of whether or not he had a solid career. In addition to a national championship title his freshman season, Allen helped Duke amass an 117-32 record over his four years. He did so while averaging 14.1 points, 3.2 rebounds and three assists per game.
You'd have to be crazy (or probably just a University of North Carolina fan) to argue Allen's time in college was anything short of awesome.
Instead, what I'm curious about is if Allen's portrayal of the villain — whether he intended to play this role or not — was ultimately beneficial to the dramatic story that makes NCAA basketball so attractive.
The answer: yes.
Through time we've seen and adored the heroic knights (think Trae Young) and the wise mentors (cue John Wooden). The dominant teams of kings (such as the University of Connecticut's women's team) and those who defeated the dragon against all odds (the 2018 University of Maryland Baltimore County Retrievers).
But the villain goes unappreciated.
Allen provided basketball fans with a character they could root against on a nightly basis. Nothing brought people watching a game on opposite ends of the country together more than a shared disgust of Duke's number three. Filling this role is crucial to any good narrative.
After all, who would Batman be if it wasn't for the Joker? Spider-Man without the Green Goblin? In sports, would the "Miracle on Ice" victory be as sweet if it wasn't against the Soviet Union?
Allen filled a necessary niche in the sports world during his years at Duke. It's not easy being the one that everybody hates. But he rocked that role with pride, and that's pretty darn cool.
In the one-and-done era, players like Allen are becoming an anomaly. It is insanely rare for a player with the popularity of Allen to stay in college for all four years. You can look right at the Duke program to see proof of this.
In Allen's time in school, he saw high-caliber teammates such as Brandon Ingram, Jayson Tatum and Jahlil Okafor hang up their backpacks and head to the NBA after just one year.
This past season, Allen was the only senior on the team, a sign of how tempting it is for talented players to dip out early and start making some cash playing professionally. Perhaps Allen wasn't good enough to make the jump to the NBA until now.
Nevertheless, pure college basketball fans have to be glad he stuck around for as long as he did. It's possible that with less and less stars playing more than just one or two seasons in college, he could have been one of the last long-standing villains the NCAA will ever see.
Allen made it possible to carry on the tradition of hating Duke. Unlike Tatum, Ingram and recent freshmen standouts Marvin Bagley III and Wendell Carter Jr., there was just something about Allen that people found so annoying. Like Duke's most notorious bad boy, Christian Laettner who played four seasons for the Blue Devils from 1988 to '92, Allen just had the ability to tick you off without even opening his mouth.
And as sick as you might get at the sight of him, you have to admit that Allen handled the waves of animosity pretty well. Put yourself in his shoes for a minute. Being a 19- through 22-year-old in college can be real tough at times. It's even tougher when most of the country hates you.
So whether you loved him or wanted to break your television every time he scored, I hope you understand how important Allen's place in college basketball was. And if not, at least appreciate how interesting he made the last four years.
Good riddance, Grayson. We're going to miss you.