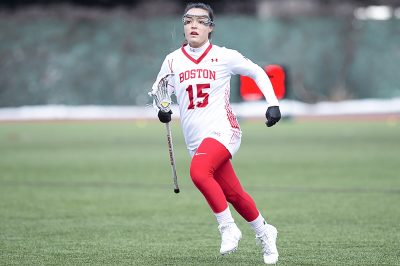 In what was a back-and-forth affair for much of the game, the Boston University women's lacrosse team ultimately fell 12-8 to Colgate University on the road Wednesday night.
The matchup saw the score knotted five times before the Raiders (7-3, 2-1 Patriot League) took the lead that would secure them the victory over the Terriers (3-5, 1-2 Patriot League) late in the second half.
With the score tied up at 6-6 with just over 10 minutes remaining, Colgate scored five consecutive goals less than five minutes apart to jump out to an 11-6 lead.
Four of the goals during that span came during the man-up advantage, due to a yellow card on senior defender Maria Guerra, and three of the man-up goals were scored by freshman attack Danielle Van Calcar alone.
"Unfortunately that span where they scored four goals, we were playing man down in an unreleasable penalty [and] that dug a hole," BU head coach Liz Robertshaw said. "And we were not having a very good attacking day as it is and so to be playing man down for that amount of time was really tough."
In the first half, Colgate jumped out to the early advantage thanks to a goal from senior midfielder Haley O'Hanlon just over two minutes into the contest.
O'Hanlon leads her team in goals with 31 and proved to be a consistent offensive threat throughout the game, finding the back of the net four times.
BU retaliated less than two minutes later, tying the game at one, as freshman attack Ava Barry got a quick shot inside after receiving a pass from junior defender Tonianne Magnelli.
The Terriers continued to put pressure on Colgate, but turnovers prevented BU from gaining consistent momentum.
One moment of offensive outburst came after Colgate took a 2-1 lead. Following a turnover, the Terriers got across the field in transition while a man down and responded.
BU managed to put offensive pressure on Colgate for most of the contest, forcing sophomore goalkeeper Samantha Croston to make 15 saves.
While Robertshaw acknowledged that her team was creating offensive chances, she said that there are still some things to work on.
"We got looks, but we felt as a team that they were very reactionary looks," Robertshaw said. "We were kind of just taking some shots and they didn't have our full, deliberate 'I'm scoring on this shot' take. I think we're better than that so we just have to go back to the drawing board."
With just six seconds remaining in the first half, the Terriers managed to convert on a final push, as sophomore attack Kailey Conry scored her second of three goals on the day to knot the game up at four heading into halftime.
BU continued to put offensive pressure on the Raiders to open the second half, and Barry scored her second goal of the game to give the Terriers a brief lead.
Colgate retaliated quickly with two goals, coming from O'Hanlon and senior attack Kristen Brigagliano, both players securing hat tricks with these goals.
For the next nine minutes, neither team conceded a goal. Both teams had opportunities, but were unable to take advantage.
Both BU and Colgate finished the day with 23 shots on goal, as well as 24 turnovers apiece.
However, one factor that hurt the Terriers was penalties, as they committed five while the Raiders only had one.
Colgate was able to take advantage of this throughout the game, as the team had nine free-position shots and made the most of its man-up advantages in the second half.
"That is a learning moment in this game, that those penalties add up and can really hurt us," Robertshaw said of Colgate's 5-0 run. "We addressed as a team that we lost the game by four, and five of their goals were on man-down BU plays, and that turned the game around."
BU now sits in a five-way tie in the bottom half of the Patriot League, while Colgate has jumped to the top half of the conference and is tied with the College of the Holy Cross, which also has a 2-1 league record.
The Terriers will look to bounce back Saturday afternoon when they take on No. 7 Loyola University Maryland at Nickerson Field.
"I think we had some players on the field that played outstanding games," Robertshaw said. "The whole defensive unit were outstanding and they just played with a great sense of urgency, and we need that to translate to the attacking end."