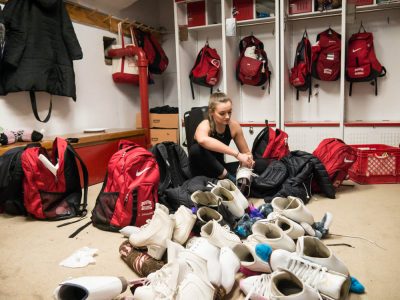 The Boston University figure skating and synchronized skating club teams are raising funds to renovate their locker room.
Scott Nalette, BU's intramural and club sports manager and the advisor for the skating clubs, said the teams are grateful to have their own space, but that they deserve a nicer space that better represents their talent.
"Everything in there is secondhand," Nalette said. "It's very utilitarian. It's good to have a spot, but it's not beautiful and certainly not befitting the talent and skill level of these teams."
The locker room has unsafe stairs, "an old, dirty rug on the floor, [and] one light," figure skating head coach Andrea Mohns-Brillaud said. The room doesn't have lockers to store skates in, she said.
"Right now, [the skaters] just leave their skates in the open area, which is not the safest when the skates are worth about $1,200 a pair," Mohns-Brillaud said.
Alyssa Uzumcu, co-president of the figure skating team and a senior in the College of Arts and Sciences, said the locker room gets very crowded when the figure skating and synchronized skating clubs have overlapping practices, and that the space could be better utilized.
Synchronized Skating Team President Paige Kessler said she thinks it would benefit the teams to have a nicer space to spend their time off the ice.
"It raises the team's morale when they're in an environment that has a serious, professional atmosphere," the CAS senior said.
Having an attractive space for the team can also be useful in recruiting prospective skaters, Nalette said.
Kessler said she would like the locker room to make a better first impression on these prospective students.
"The carpet is ripping, and the lockers are rusty," Kessler said. "… I've gotten used to it, but that's just not a great first impression."
The clubs plan to renovate the locker room from the ground up. Besides traditional renovations like lockers, new flooring, and new lights, Nalette said the teams also hope to add a skate-sharpening station and a trophy case.
Uzumcu said the clubs are fundraising primarily through social media and outreach to alumni and family members. The renovations are estimated to cost $200,000, Nalette said, and they may be completed in stages or all at once, depending on the success of the fundraising campaign.
"We're not necessarily expecting to meet it this Giving Day," Nalette said. "… Maybe it's a year, maybe it's three, maybe it's five years, who knows? Eventually, it'll get done, and this is the jumping-off point."
The locker room has barely changed since many alumni were skaters at BU, Nalette said. He hopes to appeal to these alumni and encourage them to support the future of skating programs at BU.
"We've got some really good support already, and feedback, from the campaign," Nalette said.
Stephanie Quinn, BU's director of annual giving, wrote in an email that student groups have the opportunity to raise large sums of money on Giving Day, a one-day online fundraiser for BU causes that has "incredible energy and momentum behind [it]."
"Having a dedicated day helps rally the entire campus (and global community) for one concentrated effort," Quinn wrote. "It's a chance for all organizations to focus one day on fundraising — so that they can spend the rest of the year focusing on the community building, research, athletic excellence, and scholarship that is most important to them."
Nalette said the figure skating and synchronized skating clubs have raised a lot of money on Giving Day in the past, and that the momentum behind it makes it an effective day for fundraising.
"It's an easy way to galvanize everybody on a single day, and these teams have done a great job in the past," Nalette said. "I'm hoping for that to continue."
While the renovations likely won't be completed until after her graduation, Uzumcu said she hopes the renovated space will welcome prospective students and show them the the community and friendships formed within the skating clubs.
"If it helps one more prospective skater come in and decide that this is they school they want to come to … then I think it's all worth it," Uzumcu said, "even if I don't directly benefit."