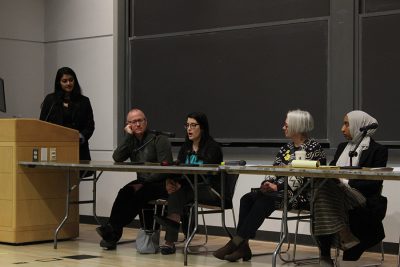 With bans on everything from bathroom choice to international travel, executive orders issued by the Trump administration have affected numerous facets of daily life in America for some people.
Saturday, Boston University's chapter of Amnesty International hosted "Human Rights One Year Into the Trump Administration," in partnership with the Islamic Society of BU, BU's Organization of Pakistani Students and BU's International Affairs Association.
Nawal Wasif, a sophomore in the College of Arts and Sciences and president of Amnesty International at BU, said the panel was organized to address concerns raised by the Trump administration that may affect immigrants at BU.
"This year we've seen so many issues with DACA or ICE and different kinds of things going on around immigration," Wasif told The Daily Free Press. "We really [wanted] to bring this space for students at BU to come and learn about the issue."
Monika Nayak, a senior in CAS and treasurer of Amnesty International BU, moderated the discussion by reading questions submitted through Facebook.
Terry Rockefeller, a member of Amnesty International USA's board of directors, said she's seen an international change in the conversation around human rights.
"We're really witnessing a politics of demonization that goes on, and [it's] almost permitting people to express intolerant, often racist, often sexist opinions and use of hate speech that can insight violence," Rockefeller said.
Tahirah Dean, an immigration attorney at Tempus Fugit Law, said she doesn't understand how the government can turn away refugees who seek asylum in the United States.
"For this current government to put limitations on who's allowed to come in after it's been determined that that these people have nowhere else to go," Dean said. "I feel like that's the biggest abuse to be able to say, 'Close our borders to these individuals.'"
Refugees leave their home countries expecting better treatment in the United States, when that might not be true said Hiam Altali, president and founder of Justice for Detainees in Syria.
"Refugees … leave their country because they are afraid of getting detained and come to the U.S. and get detained on the border," Altali said. "This is really a human rights violence."
An increasing number of detainees are being housed in county jails in Massachusetts said Elena Noureddine, an attorney for the Political Asylum/Immigration Representation Project.
According to Noureddine, over 90 percent of immigration detainees are held at these jails. These are the same facilities housing people serving short criminal sentences, so there are no benefits or programs normally available to someone serving a state sentence like GED classes or Alcoholics Anonymous groups, Noureddine said.
Regarding voter ID laws, Timothy Longman, director for the Institute on Culture, Religion and World Affairs and political science professor at BU, said he's seen a consistent effort by politicians to suppress the vote for certain populations in America.
"As the white population is diminishing, there is a degree of racial panic on the part of many of those who are in power," Longman said. "[They're realizing] that they might have to actually compete fairly with the entire population instead of being guaranteed advantages of whiteness."
Yoana Kuzmova, an instructor at BU's International Human Rights Clinic, said the United States tends to have an isolated scope when it comes to discussing human rights.
"There tends to be this somewhat exceptionalist idea that human rights are for abroad," Kuzmova said. "But as we have seen over the course of the last year and a half … we do need that set of protections that are not necessarily found in the Bill of Rights."
Only talking about the issue, Kuzmova said, is not enough to effect physical change.
"Through your political engagement, through your civic engagement, through your purchasing choices, exercise your values," Kuzmova told The Daily Free Press. "This can only be reinforced by anyone who spoke here today."
Allison Horowitz, a senior pursuing a dual-degree in the School of Education and the Sargent College of Health and Rehabilitation Sciences, said she was familiar with a lot of local issues but wanted to expand her knowledge.
"I wanted to get a greater perspective on international issues and how everything here in America is affecting the rest of the world," she said
CORRECTION: A previous version of this article said Kuzmova was "an immigration law lecturer at BU." It should say Kuzmova is "an instructor at BU's International Human Rights Clinic." The current version reflects this change.