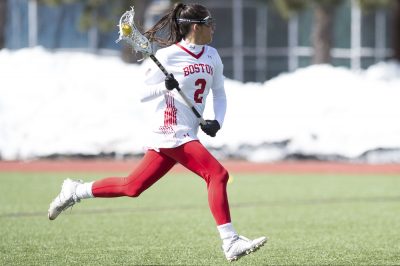 The Boston University women's lacrosse team came away with a 20-16 victory against Harvard University Wednesday night at Nickerson Field, thanks to an offensive outburst that took advantage of its opponent's turnovers and penalties.
The spurt of offense followed two consecutive losses in Patriot League play for the Terriers, after the team fell 12-8 to Colgate University and 18-11 to No. 7 Loyola University Maryland.
BU head coach Liz Robertshaw said that the non-league matchup gave her team a chance to regroup.
"I think it was a big game for us to win going into some more conference games, knowing we need to turn the tide," Robertshaw said. "We needed to right the ship and we did that. I feel like the girls are going to bring a lot of confidence to the next game and we need that."
The game started off back and forth, with the Terriers (4-6, 1-3 Patriot League) and the Crimson (3-7) trading goals for a majority of the first half.
BU had three two-goal runs, but were unable to gain any more traction than that in the first 30 minutes of play.
The Terriers gained offensive momentum as the game went along, firing a total of 43 shots at Harvard senior goalkeeper Olivia Gundrum and forcing her to make 15 saves on the night.
Good passing allowed the team to get the ball within the 8-meter arc, and allowed the Terriers to string together an 11-4 goal advantage through the first 25 minutes of the second half, putting the game away.
Another aspect BU improved upon throughout the contest was its free-position shots.
Coming into Wednesday's game, the Terriers were ranked second to last among Division I teams in free-position shot percentage. However, the team took advantage of six on the night and scored on five of them.
On the other hand, Harvard only managed one, as BU's defense remained tough and limited its fouls.
"People made better decisions of when to take [free-position shots] and when not to," Robertshaw said. "[Junior midfielder Kaitlin] Belval, we know, is a green every time she can take that shot. Other people, if it wasn't their shot, they didn't take it, so I felt like we didn't force it as much and we made better decisions."
BU was able to take advantage of Harvard's eight first-half turnovers, many of which came on the defensive end of the field.
The Terriers managed to convert offense into defense, and generate offensive pressure going the other way.
On two separate occasions, the Crimson failed to clear the ball near their cage, leading to two easy goals for BU.
The Terriers had seven caused turnovers as well, with senior defender Maria Guerra leading the way with two.
While BU lost more draw controls in the first half — going 7-for-17 at the faceoff X — the team was able to take advantage of those turnovers to keep the offensive pressure on the Crimson.
"I love it," Robertshaw said of her team's improved defense. "I felt like people were just working their butt off trying to get the ball back. We talked about covering for each other and that if someone made a mistake, that we were going to hustle and really get the ball back and I feel like you saw that from [senior attack] Avery Donahoe and [freshman midfielder] Ryann Gaffney."
Donahoe and Gaffney each registered a caused turnover apiece.
Eight different Terriers found the back of the net in the offensive outburst.
Three players, including Belval, attacks sophomore Kailey Conry and freshman Ava Barry scored four or more goals, while Donahoe and junior midfielder Kelly Mathews contributed two goals apiece.
Conry's performance was one for the record books, as she set a new BU women's lacrosse record with 13 points on the night. With five goals and eight assists, she increased her season totals to 21 goals and 27 assists.
She currently leads the Patriot League in assists per game with 2.7.
"[Conry] was seeing her teammates," Robertshaw said. "She likes playing against the zone and she felt real comfortable tonight."