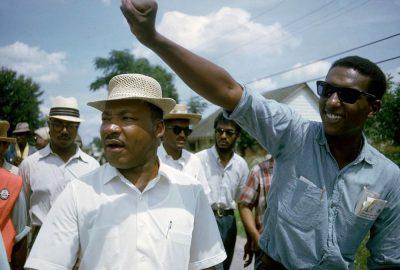 In his famous speech "I've Been to the Mountaintop," Martin Luther King Jr. said he would "watch God's children in their magnificent trek … through the wilderness, on toward the promised land." Perhaps his fascination with the journey and struggle of the chosen people is what inspired him to become a pastor and leader, an idea explored in HBO's new documentary "King in the Wilderness."
The documentary follows Dr. King's life starting in early 1965 and up to his assassination in Memphis, Tennessee in April 1968. It is told through the perspective of several of his friends, family members and colleagues.
Rated 100 percent "fresh" on Rotten Tomatoes, "King in the Wilderness" is one of the most accurate documentaries about King's final years. What makes it different from similar films is that it focuses on King's inner thoughts rather than just his public speeches.
The film does an excellent job of portraying another side to one of the most well-known public figures in American history. It discusses King's activism but focuses more on his private feelings about violent protest among his counterparts.
Pastor, ambassador, and friend of King, Andrew Young, who was interviewed along with 16 others in the documentary, said that King "never viewed it as black against white. Racism was a sickness." He cites this as one of the reasons King felt less and less comfortable with rising war-like tensions and messages of finding no compromise.
In one of King's speeches in the film, he says "I am concerned with peace," a quote that advisor and friend Clarence Jones agreed was a hallmark of Dr. King's personality. The interviewees all said King's constant push for non-violence and equality were essential to his character.
The documentary uses these people as well as footage of King's speeches and protests as a way to reveal the lesser-known doubts and concerns he experienced during his last few years as a leader of the civil rights movement. Director Peter Kunhardt told The Root in February that he wanted to create a realer, less boxed-in version of the religious and civil hero.
"Every single one of them [the videos] portrayed him simply as the 'I Have a Dream' speech," Kunhardt said. He said they "turned him into a wooden figure." This is why he and his team aimed to create a thoughtful, dimensional King, who struggled more like everyone else in the movement, just as susceptible to the pressures and words of society.
The documentary highlights his role in the Voting Rights Act as well as his marches in New England and Chicago. It also delves into his relationship with the church and religion, citing his faith and natural ability for public speaking.
The challenges King faced toward the end of his life were about more than just race. King questioned his role politically, spiritually and emotionally.
Overall, the film does a wonderful job of bringing new facts and dimensionality to Dr. King. It paints him in a different, and arguably more personal, light, allowing audiences to experience the public figure from a new point of view, especially considering that there are new generations to be educated about civil rights and King's role in it.
The documentary is definitely worth the watch, whether or not you consider yourself a history or Martin Luther King Jr. buff. It sheds new light on the enchanting and conflicted hero that helped change America so many years ago. It helps bring his legacy into the 21st century and reminds audiences of who Dr. King was outside of the legend-like tales of him now so frequently told.