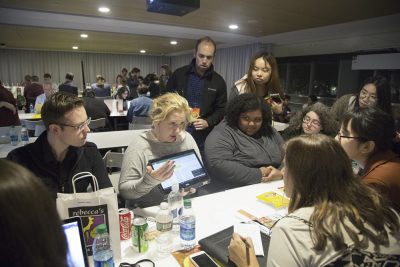 Recent studies have found that people who work in academia, particularly graduate students, researchers and especially women, are more prone to anxiety, depression and workaholism.
In a study published in Nature Biotechnology last month, 41 percent of the postgraduate students who were tested scored as having severe or moderate anxiety and 39 percent tested as having moderate to severe depression. The average rate for both in the general population is usually around 6 percent.
"Grad school can be very stressful because you're working on very hard things no matter what situation you're in," said Ryan Goh, a postdoctoral fellow in Boston University's Department of Mathematics and Statistics. "You're kind of getting less and less dependent or being told what to do — it's more and more independent."
As students move into graduate education, they have a lot of new responsibilities to juggle, and they have to efficiently divide their time between research, coursework and teaching, Goh said. Financial struggles might also factor into anxiety because living on a graduate stipend can be challenging for many.
Several BU graduate students also said they think the daily routine required of graduate students can be conducive to stress and depression.
Jackson Walters, a Ph.D. student studying mathematics, said he thinks the levels of stress induced by a typical postgraduate lifestyle can be quite high. This year he felt the effects first-hand.
"This academic year I was suicidal for a period," Walters said. "While this had to do with other events in my personal life, it was not disconnected from being in the fifth year of a Ph.D. program and sort of considering my entire future."
While there were several internal reasons behind his condition, Walters said, the issues were exacerbated by the stress of keeping up with his academic responsibilities.
"I … spent three days in a psych ward," he said. "And that was during the academic year, so I had someone cover my teaching responsibilities."
Walters said that while it was a struggle, there are several resources available to students who are going through such problems. He added that with therapy, he is now feeling much better. The length of the academic program and the number of years dedicated to it could be a problem, he said, and the unpredictability of the lifestyle further added to his issues.
"You have to really learn how to take care of yourself," Walters said. "It's a full-time job, just trying to stay relatively sane and productive and constantly doing so for five years — I think it's just a different experience than it is for people who are working."
Praveen Kenderla, a Ph.D. student at BU's Department of Psychological and Brain Sciences, said he thinks it can be especially difficult for international students to adjust to the postgraduate workload and lifestyle. He said the educational experience in the United States is different from that in his home country of India.
"The idea [in India] is that Ph.D. students don't teach and that … all you do is do research," Kenderla said. "I don't have an experience of teaching and also taking multiple classes and doing research at the same time."
He said he had a difficult time making friends and that external stress often impacts his work life.
"It's a loop," Kenderla said. "The main stresses are from outside, but it impacts your workload. And once it slightly impacts your workload, it becomes stressful because it impacts your daily life."
Daniel Kleinman, BU's associate provost for graduate affairs, said he thinks isolation and instability are among the major factors causing the problems faced by many graduate students.
"In some fields, the work that graduate students do is fairly isolating, and that can contribute to anxiety and probably depression too," Kleinman said. "I think there is a whole set of factors — some of them have always existed for graduate students, and some, like the job market, may be a little bit different now."
Several graduate students said they have a positive outlook on the stress they face, citing in part the resources BU provides to help students cope with potential problems.
"I've been a grad student here for six years, and if you consider all of that time and the amount of time I've spent severely stressed, I can't actually really say that it's terrible," said Karoline Weber, a Ph.D. student studying statistics.
Weber said she's had a good lifestyle and that she thinks she has felt an average amount of stress comparable to that of most people with non-academic lifestyles.
Audrey Tan, a master's student pursuing a degree in speech-language pathology, said she thinks the support BU students receive from their professors helps to reduce anxiety.
"I think our professors are really supportive," Tan said. "They're very good at creating a supportive environment and just giving us resources and caring and listening to us."