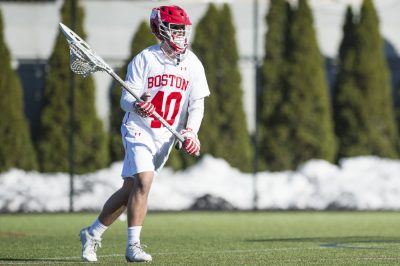 For the sixth time, the Boston University men's lacrosse team took on the United States Military Academy on Saturday, in search of its first win against the Patriot League foe.
Thanks to a stout defense and a career-high 16 saves from sophomore goalkeeper Joe McSorley, the Terriers (6-6, 2-4 Patriot League) downed the Black Knights (5-5, 2-4 Patriot League) 8-7 at Nickerson Field Saturday afternoon on Senior Day.
"I just needed to stay set," McSorley said. "Our defense was challenging shots, which was taking speed off the shot. I was able to read it and get some saves."
The two teams last played in the Patriot League semifinals where Army cut BU's postseason run short with a 10-7 win.
During Saturday's matchup, McSorley ended the first half saving eight shots from Army.
However, the Black Knights were able to beat him four times in the first 30 minutes of play with senior attack Conor Glancy leading the way with two goals.
Standing in the opposite cage was junior goalkeeper AJ Barretto, who entered the contest second in the nation with a 6.92 goals against average. His .547 goal save percentage topped the Patriot League and was good for 17th in the nation.
"[Barretto] made some great saves, but we had some hands-free moments where we continued to shoot stick side high, which kind of bummed me out," BU head coach Ryan Polley said. "But we made the plays at the end … They're tough, they're a really good defensive team. I know they're struggling to score offensively, but they're still one of the hardest teams to go against."
Barretto received help from his defense as they only forced their goalkeeper to make three saves during the opening half and only one during the second quarter.
The defensive group entered the contest as one of the top in the nation, allowing only seven goals per game.
The Terriers did not get through the defense and find the back of the net until second period, where they outscored the Black Knights 3-2 during the frame.
"We kind of started off a little bit slow. I think we were kind of rushing things a little bit," junior attack James Burr said. "[When] the second half started, we kind of got our offense going a little bit … It's about momentum for us, once we got it going our offense starting clicking."
Ten minutes in the third quarter, Army caught BU in a 10-man ride and fired a shot from midfield, but freshman midfielder Malcolm Glendinning dove in front of the cage and pushed the shot off line.
Just three minutes and 40 seconds later, Glendinning blocked another shot while in another 10-man ride.
McSorley saved five shots in the third period while Barretto stopped three to keep both offenses at bay.
However, neither goalkeeper had a perfect 15 minutes, with the Terriers scoring twice and the Black Knights adding three to their lead.
Army was unable to beat McSorley in the fourth quarter as he saved three shots.
Barretto did not match the feat, as he allowed three goals in the final frame en route to the 8-7 BU victory.
"Joe's had a great year," Polley said. "We've certainly had some injuries that have [led us] to play a lot of inexperienced guys on defense so we made mistakes and a lot of shots were right on top of Joe. So even when Joe's numbers aren't great, he still plays a good game. He's been very consistent and he's been excellent."
McSorley and the defense also benefited from the play of senior defender and long-stick midfielder Isaac Lipton.
Lipton forced three turnovers and scooped up five ground balls. He leads the Terriers in caused turnovers with 18 and is second in ground balls with 35.
"We're finally getting healthy," Polley said. "I mean that's the thing. If you look at our last two defensive games we were giving up 16 goals, 16 goals, 19… We're getting two big guys back that were keys. So now we've given up seven and seven so I like how we're playing defense, I like the way McSorley's playing [and] we're not making as many mistakes defensively … That was a big for us, figuring out a way to win that game."