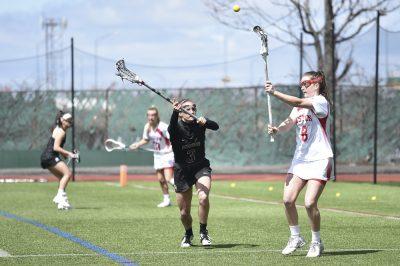 In a game characterized by quick feet and precise passing, the Boston University women's lacrosse team notched its second straight win and its second Patriot League win with a 19-7 victory over American University.
Both conference victories for the Terriers (5-6, 2-3 Patriot League) have come with the opposing teams' scoring kept in single digits, a testament to the team's defense that minimized American's (3-9, 0-4 Patriot League) shots on goal to 15.
A steady stick in draw controls also helped keep the ball in possession for the Terriers as the team went 20-for-27 at the draw, with junior midfielder Kaitlin Belval and junior defender Tonianne Magnelli winning seven each.
The wins reflect a consistency in scoring and control that BU head coach Liz Robertshaw wanted from her team.
"We're just seeing better games from people," Robertshaw said. "Belval has been awesome all over the field — offense, defense, midfield. So we're just seeing more people be confident on the field and learning how to read their teammates for goals."
BU's offensive prowess, built onto its previous 20-goal game against Harvard University, saw 10 players contribute to the final score, half of them putting up a multi-goal game.
Freshman attack Ava Barry and senior attack and co-captain Avery Donahoe earned four goals apiece.
Among her five-point day, Donahoe notched her 100th career point as a Terrier. The Alexandria, Virginia native leads BU with 27 goals this season, building on a career-total of 78 goals and 25 assists.
It was also the second consecutive hat trick for Barry, who played a dominant game that ended with seven points, two caused turnovers and a ground ball.
"Barry has really stepped up," Robertshaw said. "Seven points is big for a freshman, and when we pulled [sophomore attack] Kailey [Conry], she took over assisting and really did a great job."
Donahoe opened the scoring Saturday afternoon 24 seconds into the contest by muscling around an Eagles defender and getting off a quick shot to the bottom corner of the net.
Donahoe started off what would become a 5-0 run for BU through the first 11 minutes of play, including three goals within 42 seconds.
Following back-to-back goals from BU and American, Eagles midfielders freshman Emma Vinall and sophomore Casey Harkins rattled off two consecutive goals, and American was beginning to creep back into the game with the score at 6-3.
Robertshaw called a timeout, during which she said she called on her team to refocus.
"Defensively, we needed to be more locked in on our game plan," Robertshaw said. "I felt that American did a good job of scoring the way they wanted to, and we weren't matching that same athleticism and stopping them, but I think we did after that."
The Terriers then went on a six-goal unanswered streak opened by freshman midfielder Ryann Gaffney's second tally of the game after freshman defender Nicole Foringer's cut pass found her in front of the net.
Barry picked up her first two goals within the streak, both assisted by Conry.
Conry, who leads the BU in assists with 33 and is tied for sixth in the NCAA with 2.7 assists per game, added to her 13-point night last Wednesday and earned six assists.
"I feel like [Conry] has gotten her groove back in terms of competing," Robertshaw said. "She's had two games and 14 assists, and that's awesome."
By the end of the first half, BU had taken a 13-4 lead.
Donahoe again found the back of the net less than a minute into the second half for her fourth goal of the day.
Midfielders senior Caroline English and sophomore Lexi Lewis each picked up their second tallies before American's sophomore midfielder Amanda Medjid put a free-position shot into the Terrier net.
Barry and freshman attack Makenzie Irvine exchanged goals and assists to the close the books for the Terriers, leaving Jacobs Field with a 19-7 win.
BU will return to Nickerson Field next Wednesday to face the University of New Hampshire, where Robertshaw said she hopes her team maintains its current level of play.
"I think we needed these two games as confidence boosters," Robertshaw said. "I told the team that in the back half of the season, every game is important and every game has pressure on it. It matters for seeding and how we're going to end the year. Having two good wins back-to-back was nice for us, and we want to keep that going."