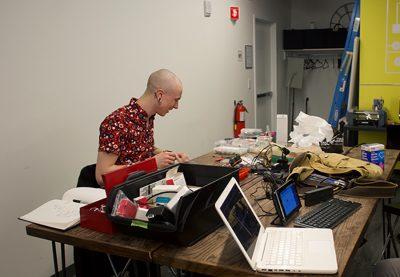 In a room full of creative minds making stupid things sits Glen Chiacchieri, the organizer of the day, wearing a homemade shirt that reads "Capitalism is Terrible."
This is Boston's Stupid Hackathon — creation at its finest.
A stupid hackathon is an event where creators and coders gather to let their dumbest ideas come to life, spending hours planning and building, ultimately leading to a presentation. The idea, originally started in New York, inspired a San Francisco version, which in turn inspired Chiacchieri to bring it Boston.
"I had so much fun at [those hackathons]," Chiacchieri said. "When I moved back to Boston I was like 'I think Boston needs to be a little stupider, a little sillier.'"
Traditionally, Chiacchieri said, a hackathon is a daylong (or weekend-long) event where people can come and tinker with inventions to win prizes. Often thrown by corporations, they're used to create interest and gain attention for the company and the inventions.
However, Chiacchieri said, corporations hosting these events can create big problems.
"Often these are thrown by corporate hackathons or hackathons to do useful things in the world," he said. "Or, hackathons run by corporations that try and get people to do free labor for them, and that's the kind of exploitative side."
As he said this, Chiacchieri laughed at the irony of his shirt choice.
"Probably the people who participate or run other hackathons wouldn't be wearing a shirt that they made that say 'Capitalism is Terrible,'" he said.
Saturday's hackathon, Chiacchieri said, was created to counter the serious corporate nature of more traditional hackathon events.
"A stupid hackathon exists partly to undercut that exploitative thing and also to just give people a fun, silly, ridiculous day experience to make weird things," Chiacchieri said.
He went on to describe a possible invention from a stupid hackathon he attended before: an app that mimics the glass ceiling. In the game parodying corporate culture, female players can only reach a certain score, while male players start higher and go as high as they can.
"[People make things] trying to skewer tech culture, that's the kind of more political aspect of if anyone's doing that," Chiacchieri said.
Chiacchieri made his own "stupid" invention at a stupid hackathon called "Screamy Bird." Similar to iPhone game Flappy Bird, instead of tapping to make the bird jump, the player has to scream at their phone.
The event's main attraction was its 3D printing station, where attendees could print whatever their hearts desired. Coworking space Boston CIC was filled with inventions, each more useless than the last.
At one table, there was a group of students from the Massachusetts Institute of Technology. Their invention sends the toilet emoji to a group chat every time a chosen toilet flushes. In addition, it will take a picture of the toilet and tell the group who didn't replace the toilet paper.
"This is going be very passive aggressive, privacy invading, possibly fire-code violating stuff," said Eurah Ko, a mechanical engineer and product designer who graduated from MIT in 2016.
Ko was working with friends, one of whom requested that her name be left out of the article.
"I don't want this to be the first thing that comes up when people look for me," she said, while her group of friends laughed.
Another invention, Chiacchieri said, was a robot whose sole job was to knock off any items placed on the table.
One group included Ted Sirota, a BU grad, and his partner Mac Pierce who are creating a Big Mouth Billy Bass — this time with an actual fish. The pair work at Artisan's Asylum in Somerville, a nonprofit community workshop to support fabrication.
"We're trying to make negative amounts of use in fact," Sirota said. "We're trying to have it steal other people's productivity. We're just trying to play God a little bit. What better things are there to do in life?"