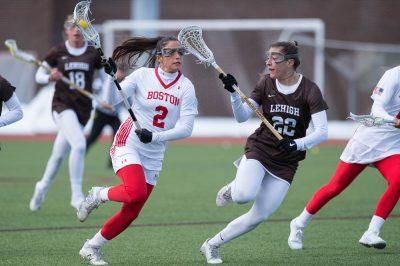 The Boston University women's lacrosse team will be looking to extend its two-game winning streak in its final non-Patriot League game of the 2018 season against the University of New Hampshire at Nickerson Field Wednesday afternoon.
In the Terriers' (5-6, 2-3 Patriot League) previous matchup against American University, they had a strong team display in their 19-7 rampage in the nation's capital.
After a slower start to the 2018 season, including a 1-3 record in the conference, BU bounced back with two wins against Harvard University and American (3-9, 0-4 Patriot League).
"The team is more comfortable together," BU head coach Liz Robertshaw said of her team's upturn. "They've been practicing and playing together for three months. Now they know what dodging looks people want, what cutting looks a person wants and there are just less questions about the game."
The Terriers are up against a UNH (6-6) team that is unbeaten in its last three games.
The defensive solidity of the Wildcats in these games has been pronounced, as they've conceded only 11 goals across three games, including a 17-0 shutout against the University of Hartford on March 31.
On Monday, UNH senior goalkeeper Kate Clancy won the America East Defensive Player of the Week award. In 11 games this season, Clancy has a 6-5 record with a 9.97 goals against average and .434 goal save percentage.
Last week, the goalkeeper went 2-0 and earned a .565 goal save percentage against America East rivals the University of Massachusetts Lowell and the University of Vermont.
While UNH has not been the most prolific up front, the Wildcats' attack remains potent. Their season-high thus far has been 17 goals, which they have reached twice in recent games against Hartford (1-9) and Vermont (4-9).
Senior attack Krissy Schafer is currently in the midst of a 10-game point and goal streak, and has scored in 11 of the 12 games this season. Schafer notched her 100th career point in UNH's last game against Vermont, and leads the team with 34 goals this season.
Senior midfielder Carly Wooters and junior attack Catherine Sexton could also pose a threat to BU, as they come into Wednesday's matchup with 26 and 11 goals, respectively.
The Terriers will be hoping for another strong performance from attacks senior Avery Donahoe and freshman Ava Barry, who bagged four goals apiece against American.
Donahoe currently leads the team's goal scoring charts with 27 this season.
Another standout player for BU last Saturday was junior midfielder Kaitlin Belval, who won seven draws controls for the second consecutive game.
"She's just been working so hard in her free time, from taking extra shots to working on her draw control," Robertshaw said of Belval. "Her confidence builds every single day."
Sophomore attack Kailey Conry continued her impressive second season, picking up six assists against American and earning Patriot League Attacker of the Week honors on Monday.
The last time these two teams met, the game ended 16-11 in favor of the Terriers.
Following the game against UNH, the Terriers will remain at home and face off against Bucknell University.
The Bison (2-9, 1-4 Patriot League) are currently on a four-game losing streak, having narrowly gone down 12-11 to the College of the Holy Cross last Saturday.
Bucknell's leading goal scorer sophomore midfielder Morgan Steinhacker, was limited to just two goals on 11 shots against Holy Cross (5-8, 3-2 Patriot League), but has 14 total on the season.
She also leads the team in draw controls with 37 and won 10 over the weekend.
This season, Bucknell has struggled to replace 2017 All-Patriot League honorees midfielder Maddy Molinari and defender Annie Gilbertson.
Both of Bucknell's victories this season have come on the road, including a low scoring 5-4 double overtime win against Robert Morris University and a 15-9 win over American.
The last time the Terriers played Bucknell, they secured a 13-8 victory.
BU will look to continue its success and go .500 in the conference with a win over the Bison.
Robertshaw emphasized the importance of the matchup against Bucknell in regards to the Patriot League playoffs down the road.
"It's a really important game," Robertshaw said. "We're trying to get the best seed possible going into the Patriot League."