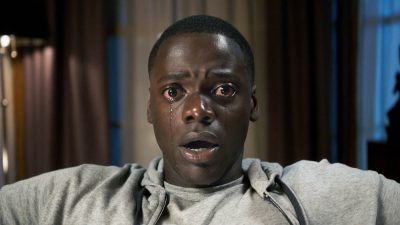 The theater erupted into cheers as Chris Washington, the main character in Jordan Peele's Academy Award-winning film "Get Out," experiences a moment of triumph during the nerve-wracking thriller.
On April 4, Coolidge Corner Theatre held a special showing for "Get Out." The showing was part of a new program at Coolidge called Wide Lens which aims to explore underrepresented perspectives through film.
After the showing of the movie, there was a panel on race facilitated by Boston University's Dr. Raul Fernandez, a professor in the School of Education.
The panelists discussed instances of subtle racism, cultural appropriation and microaggression found within the film. Michael Martin, a racial justice trainer and community organizer, said the abduction of a black jazz musician in the beginning of the film was symbolism for the cultural appropriation of jazz music.
"Ya know, white people stole jazz," Martin said, commenting on the scene.
Rebecca Comage, the director of Diversity and Multicultural Affairs at Salem State University, delved into a discussion about the impact that microaggressions — everyday instances of hostility experienced by members of marginalized groups — can have on individuals.
"[Non-minorities] think that they may be giving a compliment or doing you a favor when really it is oppressive and horrible and disrespectful," Comage said. "There are so, so many great examples of that within in the film."
The panelists noted that each time they watched the film, they discovered new layers and details. Patricia Wen, The Boston Globe's Spotlight editor, said that it wasn't until her third viewing of the film that she noticed one Asian man amongst the white people during the auction party scene and wondered what statement Peele was making.
"Personally, I think it has to do with the dual aspect of Asianness in the United States," she said.
Jade Franco, 32, of Malden, said this showing was her second time seeing the film, and while she loves it, it frustrated her even more.
"All the little microaggressions that were depicted in the film are very real, and I've definitely encountered those same situations as a woman of color," Franco said.
Franco added that Peele's film provided important representation for people of color.
"Our stories need to be heard," Franco said. "It took Jordan Peele years to get this out there. There are so many other black and brown women, queer people, all of the above together who have different stories to tell."
Representation is crucial, Fernandez said, because people must understand each other's lived experiences to build tolerance and empathy.
"We're not going to solve these issues until we understand each other's differences," Fernandez said in an interview with The Daily Free Press. "I think film is a great outlet. It allows us to sit down together and have a common experience in a common shared space that we can use as a jumping off point to have a conversation."
Fernandez will facilitate another Wide Lens panel later this month following a screening of "The Visitor," which depicts the lives of undocumented immigrants, on April 25.
After formal discussion concluded, the conversation opened to include questions and comments from the audience. Many were from people of color describing their feelings about the film and how moments in the movie are relevant to their everyday lives.
One woman, who identified herself as an immigrant from Yemen, commented about how the Transportation Security Administration agent in the film helped a person of color. In reality, she said, the TSA is not helping many immigrants of color.
"The thing about the film that's really important is that it started conversations — small conversations like this all over the country, so we know that there's a ripple effect," Martin said, in an interview with The Daily Free Press.
Martin said BU students should listen to people of color on campus to understand the ways life at the university affects them.
"Show up and listen and use that information to help you understand your own experience," she said.