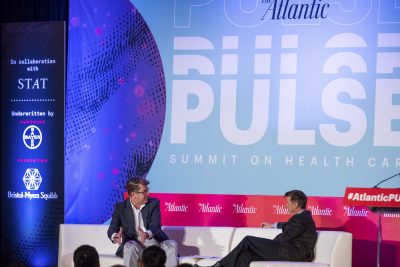 As the reality of American health care shifts rapidly, The Atlantic's editorial team gave the system a much-needed checkup on Monday.
The Atlantic hosted "PULSE: The Atlantic Summit on Healthcare" at the InterContinental Boston hotel, in collaboration with STAT News.
The conference consisted of several panel discussions featuring a diverse selection of speakers, mediated by The Atlantic's editors. Discussions throughout the first half of the day covered a range of topics including the challenges of health care coverage in the United States, possible solutions to the opioid epidemic and the future of biopharmacy.
"[The Atlantic staff] had a good look at Boston with all of the health innovation that's going on here: the research, the big universities," said Steve Clemons, editor at large. "A lot of the experimentations on health policy were born in Massachusetts so this is a rich place to come to."
Clemons said Boston's health care scene isn't purely beneficial innovation, though.
"There's a lot of data hoarding here as opposed to data sharing and I find that there's a kind of [competition] within the Boston region about what's going on in health care," he said. "Some of it is good and can be constructive for not only the region but the country. Some of it is bad and is part of the kind of dark side of the health care scene."
Among the summit's attendees were medical students, executives and curious patients.
Lauren Cronin, 44, of Wellesley, learned about the event through STAT, and came to the summit to glean information about what's changing in health care.
"I work for a company that does primary care continuing medical education and it's very important to me to understand some of the changing dynamics in the health care landscape," Cronin said. "[I] think it's really interesting and I love understanding, again, what the hottest topics are right now."
Cronin participated in a breakout session wherein the audience was able to choose one of four topics to learn about in depth. She said she was amazed by their discussion of America's projected physician shortage, which is expected to grow over the next decade.
"If clinicians would just stay in practice two years longer than they do now [rather than retire earlier], we could prevent the severe shortage that we're probably going to see by 2030," she said.
Throughout the conference, panels focused on topics in different sectors of health care.
"Reprogramming Tumors" discussed CAR T-cell therapy, a relatively new treatment for cancer that successfully fought lymphoma in Bostonian and hair salon owner Judith Wilkins. Audience members were moved by the relationship between Wilkins and her doctor Caron Jacobson, a medical director at the Dana-Farber Cancer Institute.
At "The Case for Prevention" panel, David Waters, a BU alum and CEO of Community Servings, a nonprofit providing nutrition services to individuals and families living with critical and chronic illnesses, discussed the impact health care research and innovation has on his business.
"For Community Servings, in particular, we just published a study in Health Affairs that was measuring a return on investment for medically tailored meals in the context of health care," Waters said. "It was a great opportunity for us to share these research results with a wider health care audience of serious leaders in the field."
Waters talked about the importance of viewing food through a public health lens and changing the way we look at food — not necessarily as a supplement, but as a treatment for those that are already sick and unable to precisely control their diets.
"So, they might need to control their potassium, or glucose, or Vitamin K. Most of us, no matter what our background or privileges are, wouldn't be able to manage that kind of complex diet," he said.
Community Servings, Waters said, aids in preparation of meals under these requirements.
"What that does is improve their health outcomes, lowers costs, keeps them out of the hospital and makes sure that they're well fed and healing properly," Waters said.
Clemons said the summit's turnout was sizeable.
"This year the audience is huge," Clemons said, "and I think we're getting to a point where both The Atlantic's quality of content and the [number] of editors that we brought [shows that] people realize that it's a fair and open forum."