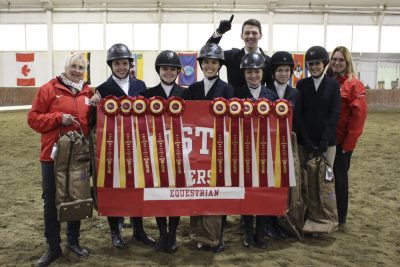 Boston University's Equestrian Team has qualified for nationals for the first time in 20 years. Following an impressive season, the team will compete in the Intercollegiate Horse Shows Association's national championships in Pennsylvania in May.
The team finished the regular season as the runner-up of Zone 1, a region which includes a variety of schools from around New England.
"We had accumulated so many points over the course of all of those shows," said Caroline Rakip, a junior in the College of Fine Arts and a member of the team. "We were the regional high points team, and this is the second year in a row that we are that regional high point team for Zone 1 Region 4."
Last weekend, regionals took place at Mount Holyoke College. Hannah Campbell, a senior in the College of Arts and Sciences and a member of the team, wrote that it was an especially competitive environment. Riders represented BU in five divisions.
"It came down to the end of the day when our most experienced rider, Michael Janson, went into a tunnel class and he was trying to see how many points we are going to need to take this home," Rakip said. "So, he goes into the class and he rides incredibly."
At the end of the day, Rakip said, not only did BUET qualify for nationals, but they finished second overall in points, finishing behind only Mount Holyoke.
While BUET did qualify for the Zone Finals Collegiate Cup in 2001 and 2017, their last appearance at nationals was 20 years ago. And though equestrian is an individual sport, the members of BUET acknowledged that they did not make it this far by themselves.
"It's important to note that not all of the team's success should be attributed to our individual success, but also to the endless effort put in by our coaches," Campbell wrote. "… Everyone at Holly Hill Show Stable has had a hand [in] our achievements. Without their equal dedication, we wouldn't be where we are now."
Rakip said the team plans on giving its competition at nationals "a run for their money," as members have been working tirelessly throughout the season to put themselves in the position they are in now.
"We've all dedicated ourselves to this Nationals dream both inside and outside of the arena," Campbell wrote. "In areas where I know that I am weak, I'll put in extra time at the gym."
BUET has faced tough competition this season, and there is more to come, but Rakip said the team's greatest obstacle might be balancing being a student with being an equestrian.
"[Other schools] practice every single day of the week and this is their mission — to go out and take nationals," Rakip said. "And then we are here focusing on academics with kind of a riding on the side."
But the team is feeling good after a successful weekend, and as they prepare for nationals, spirits are high.
"It feels like a dream come true!" Campbell wrote. "We went into Zone Finals as the underdogs since we were up against these varsity and NCAA teams as a club team. I'm so proud of how much I've seen this team progress."
While members of the team know the competition will be fierce, athletes on the BUET said they are certain they will represent BU well.
"I really want to put in the best ride possible, but it all depends on my head space and which horse I draw that day," Campbell wrote. "Either way I'm going to put in the best ride possible no matter which situation is presented to me."