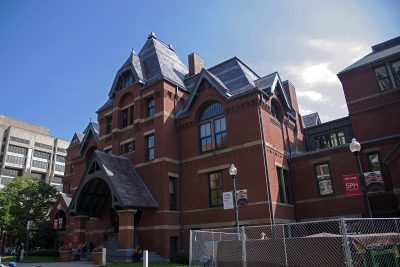 Boston Mayor Martin Walsh named April 12 "Harold Cox Day" to honor Harold Cox, an associate dean at Boston University's School of Public Health, for his work in driving lasting improvements in public health.
Cox is the associate dean for public health practice, the director of the Activist Lab and a professor of community health sciences at SPH. He is currently in the process of concluding his tenure as a Boston Public Health Commission board member.
Cox said BPHC and Walsh honored his retirement from the BPHC board with the tribute day after a tenure spanning 11 years. BPHC held a party two weeks ago for Cox, presenting him with a plaque.
"It's a wonderful honor to have," Cox said. "There was a wonderful party with a really nice cake."
SPH's mission is summarized as "Think. Teach. Do," wrote Anne Fidler, the assistant dean for public health practice at SPH, in an email. Cox has been a primary architect of the "Do" part of the mission, working to promote partnerships between the school and communities on local, national and international levels to drive lasting improvements in public health.
As the director of the Activist Lab, an offshoot of SPH dedicated to public health education, innovation and advocacy, Cox guides the development of training programs for public health practitioners across New England. The Activist Lab has developed out of the Office of Public Health Practice under Cox's leadership during the past few years.
The Activist Lab is currently investigating issues surrounding transgender health, homelessness, opioid addiction and housing, Cox said. The Lab teaches students how to advocate for issues they care about.
Cox has a long history working in public health, Fidler wrote, having worked at the Cambridge Public Health Department and the AIDS Action Committee before coming to SPH.
"He brings an intelligence and clarity of thought that are second to none," she wrote. "He brings an enthusiasm for his mission and an ability to communicate that enthusiasm to others. He cares about people — all people — in a way that motivates him and those around him to understand their needs and to make their lives better. He is one in a million."
Cox said his entire career has been centered around public health. He began his career working with people with developmental disabilities before moving to the AIDS Action Committee.
"In all of those positions, there's been an opportunity to work with people who are underserved, working with people who are interested in improving their health," Cox said. "It's been an honor and a lot of fun and a calling to be involved in a lot of different issues."
Cox has been a strong supporter of tobacco control regulations for years, Fidler wrote, promoting regulations to eliminate smoking in bars and restaurants while working at the Cambridge Public Health Department. Cox helped make Boston a national leader in preventing youth tobacco use through his support of regulations in 2008, 2011 and 2015.
"His leadership, vision, and seemingly boundless energy have had direct impact on citizens … and have inspired countless others to work toward improving the health of the public," Fidler said.
The BPHC is grateful for Cox's contributions to public health in Boston, wrote BPHC Executive Director Monica Valdes Lupi in an email, specifically for his support of tobacco control regulations.
"We're thankful for his exemplary service and guidance, as well as his advocacy for achieving health equity and leading policy approaches on a number of public health issues," Lupi wrote.
Fidler's experience working with Cox has been "one of the greatest joys and privileges of [her] life — both personally and professionally," she wrote. Through her time working in the public health field in Massachusetts, she has seen firsthand the influence Cox has had on the field.
"His influence as a thinker and a practitioner are unparalleled," Fidler wrote. "It is outshone only by his humanity — his quick wit and good humor, his concern for his family, friends, and colleagues, and his genuine goodness are obvious to those of us lucky enough to know him."