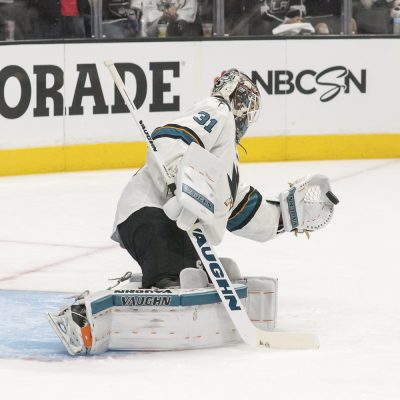 There haven't been too many surprises in the NHL playoffs thus far, but we haven't even gotten to the good stuff yet. We're about halfway done with round one, but there's a lot more hockey to be played.
To no one's surprise, the Washington Capitals are struggling in the playoffs. But a few teams are showing that the first round is the one to impress, and one of the better chances for a lower seeded team to shine.
A stellar first round for Vegas
Sweeping the Los Angeles Kings in the first round is exactly the momentum that the Vegas Golden Knights need if they want to be real Stanley Cup contenders this year. Vegas was definitely expected to do well this postseason, but a sweep in the first round shows the team is serious about winning this year.
Other teams, especially in the Western Conference, should be a little on edge about playing the Golden Knights. If they thought this was going to be an easy win because of Vegas' lack of playoff experience, that has been proven wrong in four short games against the Kings.
A reminder to never rely on the Capitals to win
Never count on the Capitals to perform well in the playoffs. Even when they're the No. 1 seed, they always fall short when it comes playoff time. And if you can't perform when it counts, a No. 1 seed doesn't matter.
If they actually want to be contenders, trading away Alex Ovechkin might do the trick. Yes, he's an All-Star player and a future Hall of Famer, but if Washington wants to win a Cup, it needs to start fresh and get rid of its star. Losing Ovechkin will bruise the team and the fans for a bit, but when the team wins a Stanley Cup, it will be worth it.
But No. 1 isn't always bad
The Capitals may not be playing at their No. 1 seed potential, but Vegas, the Tampa Bay Lightning and the Nashville Predators all seem to be in good shape.
Tampa Bay has a pretty easy battle this round against the New Jersey Devils, a team that wasn't really supposed to make the playoffs this year. And Nashville has shown promise against the Colorado Avalanche this round, proving that it may have what it takes to get to the Stanley Cup Finals again.
Tampa Bay has had its fair share of ups and downs in the playoffs in recent years, making a Stanley Cup Final most recently in 2015. If this isn't the Lightnings' year, they won't have to wait much longer to bring back a Stanley Cup to Florida.
Toronto can't manage away ice
The absolute disaster that was the Toronto Maple Leafs in the first two games against the Boston Bruins was not near the talent they showed in the regular season. The crowds were loud and rowdy in Boston, but Toronto was almost unrecognizable, playing on its heels and being outskated all night.
The Maple Leafs are managing back at the Air Canada Centre, but even if they win this round, playing on away ice won't get easier.
A potential run for San Jose
The San Jose Sharks are up against Vegas in the next round, which won't be easy. But two years ago they made it to the Finals against the Pittsburgh Penguins, so who's to say it can't happen again?
It will most certainly be a fight against the Golden Knights, but the Sharks are one of the best at grinding out tough games and emerging victorious.
If they have anything over Vegas, it's that they're a tight-knit group. The loyalty and trust that some of these guys have rivals any new relationship that has been formed in Vegas this year.
Brent Burns, Joe Pavelski and Martin Jones are comfortable together and make for a fun play environment.
San Jose and Las Vegas are playing with two different passions. The Sharks came so close two years ago and their fire since then hasn't gone away. The Golden Knights, on the other hand, are trying to prove that this expansion team actually can do well this season and may have the opportunity to bring home a Stanley Cup in their inaugural season.
It's almost a shame that this matchup isn't the Western Conference Finals, because that would be an explosive matchup.