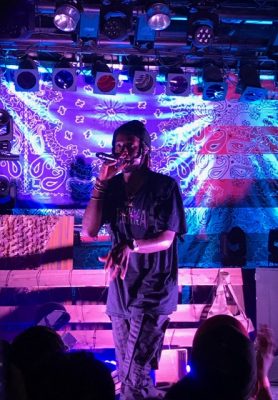 Drawing from his repertoire of early mixtape songs after the debut of his sophomore album "All-Amerikkkan Bada$$," Brooklyn rapper Joey Bada$$ performed at the Paradise Rock Club Tuesday on the first night of his "Amerikkkana" tour. His openers, Buddy and Dessy Hinds, were given considerable performance time before Joey was goaded onstage by the sold-out crowd who grew increasingly anxious the longer he took to appear.
After his tour cancellation last year, Joey commented that he was taking a break from smoking marijuana, but would be back once he "paid his bills." His renewed enthusiasm for his music is evident in the production value of his live performance.
Joey's stage, which featured the trappings of classic Vietnam-era military tchotchkes and a large paisley American flag, played on Americana culture and alluded to his political sensibility. His set included chanting invectives against Donald Trump (notably, at one point he led the crowd in a "F*** Donald Trump" chant) and lyrics in "Land of the Free," "Obama just wasn't enough, I need some more closure / And Donald Trump is not equipped to take this country over."
His flow bounced against the washed-out, kick-drum based texture of several of his songs. He performed a contrasting mixture of sentimental jams and hard-hitting mosh songs, although his sonic aesthetic leans more toward lighter beats. He took pauses between songs to speak to the audience, establishing himself as a playful and easygoing performer.
With a chronological setlist, he began with raps from his first mixtape, "1999," and performed his freshman album track "Paper Trail$," which includes a cover of the Wu-Tang Clan hit "C.R.E.A.M." His retro vibe pulled on socially conscious music of past decades, as if he were a new sort of hippy, a self-appointed American political consciousness.
Although not melodically similar to singers like Bob Dylan and Jimi Hendrix, Joey Bada$$ pulled on the same tradition of music of revolution for his set.
Not all his songs are as heavy, though, and his most popular, "Devastated," does not veer far past the ring of a rap-pop song. Joey Bada$$ rose to prominence on the merit of his wordplay.
Unlike his earlier hits, which favored rhyme schemes and wit, his current sonic aesthetic is tailored to a more mainstream audience. Like rap classic MF Doom, he favors extreme rhyme schemes and street-wise freestyle feats of mind. That lyricism still exists on his new album, but it has mellowed since his early days.
Born Jo-Vaughn Virginie Scott in Brooklyn to Caribbean parents, Joey Bada$$ established himself as a mainstay of Brooklyn's Flatbush rap scene.
His first mixtape, which he released when he was 17, became a best ranked album of 2012 by Complex. His Paradise set oscillated between old and new tunes, aggressive rap bangers and "ladies jams," as he called them.
Toward the end of his set, Joey paused more between songs, breaking up the flow of his concert. His energy looked like it was fading, and his presence appeared a bit detached at times onstage.
Given the range in his setlist, the contrast between his earliest raps and his newest songs was particularly evident. His energy transferred well to the audience, which moshed through almost the entire show.
His evolution from Brooklyn teen rapping on YouTube to adult musician exploring political themes is simply that — an evolution. Joey Bada$$ is ready to emerge from his youth; he's ready to leave Brooklyn for the world at large. On the first night of his tour, he stage dove into a new crowd of fans, some who knew all the words, others who didn't.
Joey is best in his natural element (witty word play), but to become a force to rival the acts he opens and writes for, he was going to need a thematic consciousness, which he achieves on "All-Amerikkkan Bada$$." As Joey emerges from the Brooklyn scene, though, he needs to remember what made him famous.