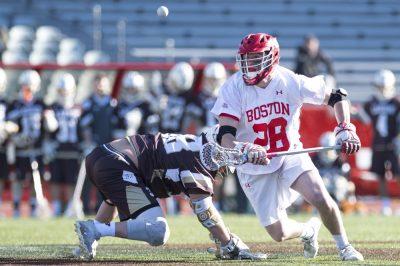 After suffering a rough 23-9 loss at the hands of Loyola University Maryland Saturday, the Boston University men's lacrosse team is looking to clinch a spot in this year's Patriot League tournament with a win Friday night at the College of the Holy Cross.
The Terriers (6-7, 2-5 Patriot League) are currently tied with three other teams in conference, including the Crusaders (4-8, 2-5 Patriot League), behind the four other teams that have secured postseason tournament berths.
"I think we're just trying to get back to playing BU lacrosse," BU head coach Ryan Polley said. "I think after this weekend, we got knocked off the horse a little bit and I think for us, we had to dust ourself off and get mentally prepared and it comes down to a one-game season."
The Terriers struggled to start the season, as it was not until a March 24 matchup against Lafayette College that they found their first conference win of the season.
Since then, BU has been able to salvage a chance at the conference playoffs.
Should the Terriers win at Holy Cross, they would finish the season with three league wins, which would be good enough for BU to sneak into one of the final spots of the tournament.
Leading up to this week's game, senior attack Ryan Hilburn said practice has been intense and that the team has put an emphasis on controlling its destiny in regard to playoffs.
"I think it's one of the bigger games I've ever played and [one of the] bigger games that everyone on this team's played in so it's just a big stage and we're all excited to play in it," Hilburn said.
Freshman attack Chris Gray continues to lead the points column for the Terriers, so far aggregating 54 points, including 32 assists.
Thirty-three of BU's goals on the season have been netted by the Terriers' goal leader, junior attack James Burr, who has scored a goal in every game this season.
Though the Crusaders have played one less game than the Terriers on the season, BU is outscoring Holy Cross 133-83.
After starting the season with a 1-7 record, with the only win coming in double overtime two months ago, the Crusaders have begun to turn their results around.
Holy Cross was held to just three goals twice and just four goals three times this year. However, the Crusaders were able to crack double-digit scoring in their last two wins against Lafayette (3-11, 0-7 Patriot League) and Colgate University.
Against Colgate (6-6, 2-5 Patriot League), Holy Cross scored five goals in two minutes and 22 seconds to pull out a 12-10 win.
"… They're definitely explosive so game plan is we'll just do what we do — play hard-nosed defense and just support each other and not allow their best players to get off," Polley said. "Certainly we're worried about [sophomore attack Kevin Kodzis], he's a nice player and we're worried about all their players because they share the ball really nicely."
Holy Cross' leading scorer, Kodzis, propelled the Crusaders to their last two wins, scoring seven goals over the win streak.
While Holy Cross' early season struggles have its goals per game last in the league at 6.92, the team is averaging 7.83 caused turnovers per game and a .555 win percentage at the faceoff X, which are both good for fourth.
"They're going to 10-man ride us most likely, they're going to slide quickly to us and we got to be very good in our stick work and our decision-making as they're putting pressure on the ball," Polley said in terms of maintaining possession of the ball. "It's just making those good decisions and handling the pressure."
Both teams have played in close games of the late, and Polley expects this one to be the same.
"… I expect this game will come down to one of the last possessions so just staying focused and prepared for 60 minutes is certainly the message we've been sending all week," Polley said.
Matthew Martin contributed to the reporting of this article.