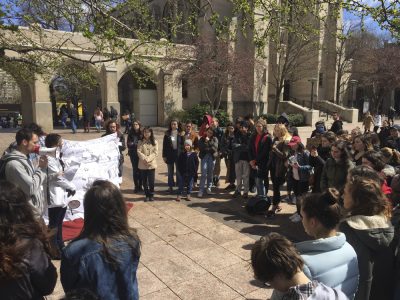 Boston University students convened at Marsh Plaza as part of a walkout against gun violence Friday morning.
This walkout was different from previous protests in its emphasis on the forward momentum of the movement against gun violence, said Lindsay Fuori, a spokeswoman for BU Against Gun Violence. Organizers aimed to empower members of the BU community to speak out and to give them the tools they needed to do so.
"Our goal is to honor with action," Fuori said.
Fuori and Shawna James, both seniors in the College of Fine Arts, organized the walkout and encouraged students to walk out of wherever they were on campus at 9:50 a.m. and to gather at the central campus location.
Attendees wrote their names on flashcards and pinned them on a banner that read "National Walkout Against Gun Violence at BU" as a way to express their opposition to the ongoing trend of gun violence in the United States.
Student speakers from the College of Arts and Sciences, the School of Medicine, the School of Public Health and CFA had their voices heard at the walkout as well.
The BU walkout was just one in a series of similar nationwide protests called for by student activists from Marjory Stoneman Douglas High School in Parkland, Florida, James wrote in an email. The walkout took place on the 19th anniversary of the Columbine High School shooting.
Several attendees said they thought it was time to take a stand and speak out.
CFA senior Mackenzie Cala said she sees gun violence as an intersectional issue that needs to be discussed on many different levels, not just as a school issue.
"I think it is in the same vein of Time's Up," Cala said. "Enough is enough."
The idea to commemorate Columbine stemmed not just from the anniversary, but also from the notion that Columbine is widely considered the first school shooting that "woke Americans up" to the issue of gun violence, Fuori said.
"We are taking this as a moment to recognize and say that we have not forgotten those at Columbine, and that we are continuing to fight for them," Fuori said, "and that we will not give up until we can feel safe going to schools and walking down streets."
The purpose of the walkout, Fuori said, was to provide a "safe space for community dialogue to take place."
"We are the victims, we are the survivors, and it's unfortunate to say, but it is not over yet," Fuori said.
Sophie Gore, a CFA senior, said she believes walkouts are essential, not only because they keep the movement going, but also because they build community.
"This makes me feel like I am part of a discussion and a conversation and a movement with other people that also care about [protesting gun violence]," Gore said, "which makes me feel like there is action being taken on a larger [scale]."
Both Gore and Cala said the best way to make an impact is to spread the conversation to people who might have a different opinion.
Five speakers at the walkout recounted their experiences with gun violence.
One of the speakers, Morgan Cassidy, told the story of how her cousin survived the school shooting at Marjory Stoneman Douglas High School. Her cousin's class had been attacked and he witnessed the murder of two friends and classmates, she said.
"February 14th, 2018, was the day my cousin entered adulthood, despite being 17," the CAS sophomore said.
Tara Roslin, a first-year student in the School of Law, said she thinks walkouts like Friday's push back against the idea that activist movements die out quickly.
"One of the things about movements that people criticize most is that there'll be a huge uproar and then it will fizzle out, and I think showing up to events like this is a strong statement to say we will not fizzle." Roslin said. "As long as there are gun laws that are nonsensical, we will still be here telling you that they are nonsensical."