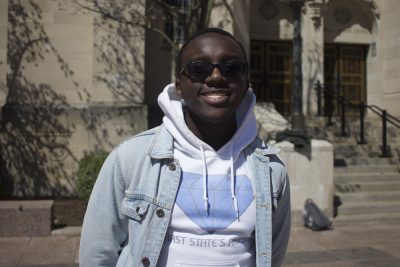 After introducing the Swipes for Boston project to Boston University last spring, Anthony Dongfack volunteered with fellow BU students to donate Rhetty-to-Go meals to individuals affected by homelessness on Friday.
Dongfack, a sophomore in the Sargent College of Health and Rehabilitation Sciences and the founder of the Swipes for Boston BU chapter, which organizes the food donations, ventured into the heart of Boston with two other BU students, visiting places like Boylston Street, the Boston Common and Faneuil Hall Marketplace to deliver meals. They delivered 14 meals to 10 people, with some receiving extra meals.
The project initially came to BU with the help of a grant he received from the Community Service Center's Santander Urban Impact Microgrant Program, Dongfack said, which encourages students to work on projects in Boston that focus on various sectors of the community, including urbanization, technology and diversity.
Before bringing the project to BU, Dongfack helped his friend AaronRey Ebreo, the founder of the Swipes for Philadelphia chapter at Temple University, during their winter break last year to supply people affected by homelessness in Philadelphia with nonperishable food items and drinks.
Ebreo wrote in an email that he is proud to have influenced Dongfack to found the Swipes for Boston BU chapter.
"It was an amazing experience to see my best friend from high school help out and give back to my new home," Ebreo wrote. "I influenced him to start up a similar project at Boston University so that he can give back to his new home as well, and he followed through with it."
Ebreo is now working with Dongfack to push the BU chapter to collaborate with the Swipe Out Hunger campaign, which looks to eradicate food insecurity on college campuses.
The Swipes for Philadelphia chapter at Temple will become an official campus organization next semester, Ebreo wrote, at which point it will adjust its mission to include providing aid to food-insecure students at Temple University itself.
Dongfack said he hopes the project will continue to grow during his time at BU through partnerships with BU Dining Services and BU's food service provider, Aramark.
"I want the project to expand to a point where, because this is completely student run … there's a much more fluid system of donating swipes," Dongfack said. "It can get resources much faster and be able to reach a wider population of people within a smaller amount of time."
Solange Hackshaw, a freshman in the College of Communication, participated in Friday's outing for the first time and donated some of her own meals.
"A lot of these people are forgotten and not treated as if they're human beings," Hackshaw said. "It's really great to at least interact with them and remind them that there are people who care about them and they're not completely forgotten."
Hackshaw said she hopes more people will become involved in the project, especially those with unlimited dining plans, so more Rhetty-to-Go meals can be donated. She added that she admires how Dongfack organized the program, given limited resources.
"The way other schools donate [is that] they have an open dining hall set-up where you can go in and take whatever food out," Hackshaw said. "BU doesn't have that, so I like the way that he got around that problem and still managed to do something for a lot of people in need."
The reactions Dongfack has received from the homeless community when delivering meals, he said, have been mixed.
"It's a little different than Philly [because in] Philly everyone was very open," Dongfack said. "Here it's not the same … but people are still very grateful when we go up to them. They're very receiving."