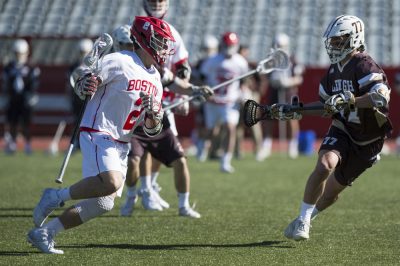 The 2018 regular season was one of ups and downs for the Boston University men's lacrosse team.
After a three-game losing streak in which the Terriers (7-7, 3-5 Patriot League) fell short against Colgate University, Bucknell University and Harvard University, BU rattled off wins in three of its last five contests to clinch a spot in the 2018 Patriot League playoffs for the second straight year.
In their first playoff matchup, the Terriers will get a second shot at the No. 10 Bison (11-3, 7-1 Patriot League).
Bucknell storms into the playoffs having won its last six games in a row, highlighted by a 15-6 drubbing of Lafayette College that saw junior midfielders Reed Malas and Tom Smith each score a career-high five goals.
The Terriers first faced off against the Bison in Lewisburg, Pennsylvania on March 17, and were defeated 16-9.
While Bucknell's offense fired on all cylinders that afternoon, the Bison's aggressive and sound defense resonated with BU head coach Ryan Polley.
"They play really good, tough defense [and force] turnovers. So we'll have to handle the pressure," Polley said. "But we're going to be confident going in."
Along with a stellar defense, the Terriers will have to contend with versatile offensive weapon senior attack Will Sands.
Sands is dangerous as both a distributor and attacking threat himself, posting high numbers in both the scoring and assist columns. Racking up 53 assists and 20 goals, shutting down Sands will likely be one of the Terriers' main objectives heading into the matchup.
While Sands will present numerous challenges for the Terriers' defense, BU boasts a powerhouse duo of their own in attacks junior James Burr and freshman Chris Gray.
Burr put up 35 goals and 10 assists this season, with Gray contributing 25 goals and 34 assists himself.
Still, Polley believes that if the Terriers can get back to what has made them successful all year, controlling possession and executing on both ends, the team will put itself in a good position to come out on top.
"We have a good sense of who [Bucknell's players] are and what they do," Polley said. "At the end of the day, we're going to worry about us and what we do. If we can play good BU lacrosse, we're going to give us an opportunity to win the game."
The Terriers will need another strong effort from sophomore goalkeeper Joe McSorley.
McSorley led the Patriot League in saves per game during the regular season, blocking 11.5 shots per contest — a testament to the enormous development McSorley has gone through since his freshman season.
McSorley played a solid game in net during BU's contest against the United States Military Academy on April 7, recording a career-high 16 saves, and finished the regular season with a 10-save effort against the College of the Holy Cross.
After reaching the Patriot League semifinals before falling to the Black Knights (5-7, 2-6 Patriot League) in their first trip to the postseason last year, the Terriers will have another opportunity to prove themselves on the league's biggest stage this season.
"Our goal every year is to win the Patriot League," Polley said. "If we can play our best lacrosse this time of year, for the next three games, I think we're going to be a tough out."
With the biggest game of the season now in its headlights, BU will not be intimidated by the tough competition that lies ahead.
"There's some really good teams we have to face, but I think we can play with anybody if we're playing great," Polley said. "So it's going to be a challenge to our guys to stay focused … and be ready to play our best lacrosse."
Jacob Gurvis contributed to the reporting of this article.