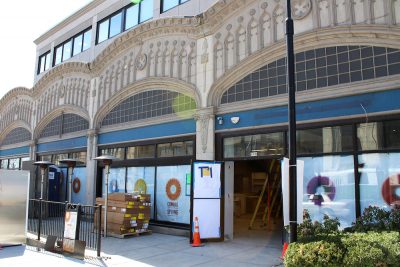 This summer, local restaurant Life Alive will be opening a new location in Boston University's West Campus.
Life Alive is an non-GMO, plant-based restaurant. Hema Narayanan, managing partner at Life Alive Organic Cafes, said the restaurant started out of a desire to provide better options for their community.
"What we're trying to do is not just be another restaurant in the landscape of restaurants, but more so take a position around nourishing, therapeutic, healthy eating." Narayanan said. "[Our restaurant] makes a statement that you don't have to compromise good health and your personal well-being in order to have a social restaurant experience with friends."
Life Alive has planned to come to BU's campus since last May, when Panera Bread vacated its previous location at 888 Commonwealth Ave. Narayanan said Life Alive began construction in mid-December. While the intended opening date was set to be before graduation, Life Alive will not start hiring until the last week of May.
The Life Alive team has wanted to come to the BU community for some time, Narayanan said. The restaurant looks for communities interested in their message and for those interested in an all-organic and non-GMO diet. The restaurant serves the communities of Cambridge, Lowell and Salem.
Radovan Vítek, a sophomore in the College of Arts and Sciences, said he is very excited about Life Alive opening on campus.
"I go to the one in Cambridge very often and they always have really good food," Vítek said. "I think many BU students will try the food and get smoothies there quite often, because in my opinion, they have better smoothies than Jamba Juice."
At this time, Life Alive is not planning on accepting BU dining or convenience points, Narayanan said. However, she said she hopes to start that process soon to better serve the BU community.
The university currently offers vegan stations in all dining halls and has an A+ rating from People for the Ethical Treatment of Animals.
BU Dining has been listening to the vegan community, BU Dining Services Marketing Director Scott Rosario wrote in an email. This fall, when asked to offer a larger variety of vegan options, Dining Services added new recipes to the menu each week.
Dining Services also renovated the kosher dining room and created kosher and vegan dining hall option Fresh Fuel at Granby Commons, Rosario wrote. Granby Commons's menu has two different vegan entrees at both lunch and dinner every day.
Narayanan said she has noticed an uptick in the number of people opting to eat vegetarian or vegan choices.
"I know people are more mindful about what they're eating, and that mindfulness can lead you to many different choices … whether the mindfulness comes from environmental concerns or health concerns or compassion," Narayanan said.
CAS sophomore Madelyn Carr said she thinks BU has a good selection for vegan students. She said she thinks Life Alive will offer options that work for more than just vegan students.
"I think it's definitely more natural-based and a healthier place to eat," Carr said. "I think that especially with the communities on campus, that BU students will stop in."
Natalia Tanko, another sophomore in CAS and a regular customer at Life Alive, also said she thinks even non-vegans can appreciate the restaurant's food.
"I love it," Tanko said. "Their food is great and they have a lot of options, which is cool. My friends that go that aren't vegan or vegetarian can also really enjoy the food."
Life Alive does not discriminate against non-vegan customers, Narayanan said.
"That's not what Life Alive is," Narayanan said.