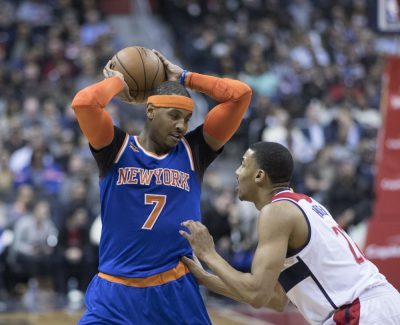 The first round series between the Oklahoma City Thunder and Utah Jazz has taught us one thing: OKC's "Big Three" of Carmelo Anthony, Russell Westbrook and Paul George is about as useless as trying to predict this "spring" Boston weather.
As the Thunder find themselves down 3-2 to Utah's Donovan Mitchell, Rudy Gobert and Ricky Rubio, some of the blame must fall on the shoulders of Westbrook and George.
Westbrook — who's averaging 25.1 points, 6.8 rebounds and 7.8 assists in this series — had been limited to just 13 total fourth quarter points before Thursday's game. Compare that to Mitchell? The potential Rookie of the Year outscored the defending Most Valuable Player 36-13 in that category. Come on, Brodie.
George has been better. The first-year member of the Thunder has put up an average of 27.3 points in each game this series, while shooting a not-too-shabby .449 percent from the field. While it wouldn't hurt for these two to get a few more buckets to go in crunch time, the major reason for OKC's failures points back to none other than Anthony.
It's no secret that Anthony hasn't had the year he wanted. The 10-time All-Star put up career-low numbers in just about every stat category: points (16.2), steals (0.6), assists (1.3), shooting percentage (40.4), free throw percentage (76.7) — the list goes on and on.
I want to defend Anthony a little bit right quick. It's not his fault that OKC decided to take on the rest of a 33-year-old's five-year, $124 million contract, incurring a $27.8 million luxury fee in the process. What's Anthony supposed to do, refuse the money?
You can see the frustration on his face in almost every game. The dude is trying as hard as he can to be that supreme talent once again, I truly believe that. It's just not going to happen anymore, 'Melo. Father Time has come knocking, folks.
Nevertheless, Anthony can still be a very important part of the NBA. Here's how.
While his days of being the go-to guy and putting up 20-point fourth quarters are as likely to resurface as Mark Wahlberg's music career, Anthony still has immense value as a role player. He needs to take a step back and examine his realistic capabilities and become the piece of the puzzle that his team needs him to be.
It's not common for a former elite to possess the ability to do this. It takes guts and a selflessness that isn't always seen in sports. Many NBA superstars, such as former Los Angeles Laker Kobe Bryant, weren't willing to take a backseat position towards the ends of their careers, even if their team would have benefited from it. And I get it — basketball means a lot to these guys. Seeing your skill stripped away from you has to be tear-jerking.  
But if Anthony doesn't want his career to be tampered by a disastrous fall-off, he has to buckle up and face reality. Not only will it salvage his legacy, it will make it even more special.
I wish I could sit Anthony down at a table with the Sacramento Kings' Vince Carter. The 41-year-old "Vinsanity" has sacrificed trying to be his team's top guy better than anybody in the history of game. By doing so, Carter has found his niche in the league. He's proved that it's perfectly fine to admit to yourself that the ball just shouldn't be in your hands as much — there's other ways to help your team win. There can be beauty in decay if you play your cards right.
Of course, Anthony still has more left in the tank than Carter does. But let's face it — 33 is old in professional sports, and Anthony's 34th birthday is coming up in May. The only reason basketball fans expect guys drafted in the early 2000s to still play like they did when they were 20, is because LeBron James is still somehow doing so.
Think about it this way: in that famous 2003-04 draft class, which included both James and Anthony, most players have been out of the league (or at least it's relevance) for quite some time (think Kirk Hinrich, Chris Bosh, or T.J. Ford). Compared to some other former NBA legends, it doesn't stack up great for Anthony's future either. Allen Iverson, Isiah Thomas and Larry Bird all played their final NBA game in their early-to-mid 30's.
So Anthony, don't just be willing to take on, but actually embrace the opportunity to come off the bench. Welcome the chance to give some of your shot attempts to the younger guys, help them develop into sound players. Chances are, some veteran did the same for you all those years ago in Denver. And it worked out pretty good for you.