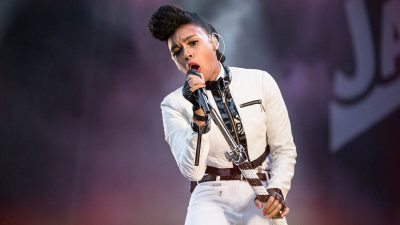 In a sense, popular music is vapid by definition. No one would anticipate the billions of views on music videos like Justin Bieber's "Sorry" or Ed Sheeran's "Shape of You," because they're experimental works with unfathomable twists and turns.
Fans laud pop for its accessibility, but to some, the genre is void of any artistic significance. Others believe that finding a good pop song, artist or album means sifting through piles of banality until a golden speck of genius appears.
Enter Janelle Monáe.
Monáe's career has been on a steady, upward arc since 2011. That year, she was featured on the Song of the Year Grammy winning track "We Are Young" by Fun. But that doesn't matter.
What matters is that one year before, Monáe released her album "The ArchAndroid." With 18 tracks, and reaching almost 70 minutes in length, the project was audacious for a studio debut. But she made it work with a wonderfully constructed concept and wildly varied instrumentals and musical styles. What other contemporary R&B album features both Of Montreal and rapper Big Boi from Outkast?
After the release of her subpar album, "The Electric Lady," in 2013, and supporting actress roles in Oscar nominated and winning films "Hidden Figures" and "Moonlight," Monáe is back with "Dirty Computer." The album represents her shift from experimental and dystopian to tender, feminine Afrofuturism. But that doesn't mean she's forgotten the elements that made "The ArchAndroid" so great. Monáe is a musically nonconforming deviant for the pop-R&B, and she is exactly what the genre needs.
"Dirty Computer" involves contemporary R&B and occasional elements of hip-hop, but the singles and their music videos teased the bouncy, feminist pop side of the album. Perhaps the most provocative single was "Pynk," and it wasn't just because of Monáe's dulcet lyrical delivery. The song's music video shows her dancing with women dressed in pink clothing and pants that resemble vulvas. There's even a moment when Tessa Thompson — Monáe's rumored real-life love interest — sticks her head between Monáe's pants to represent a clitoris.
The song and its music video recall the "pussy power" slogan popularized by 2017's Women's March. The lack of subtlety in the video isn't gimmicky or uncalculated. Monáe's resonant lyric, "Pynk is the truth you can't hide," shows that she wants to destigmatize feminine bodies.
She doubles down on this idea in the song "I Got the Juice." The juice you're thinking of? Yes, that's exactly what she's singing about. No, your mind isn't in the gutter. Monáe buttressed the track with vocals from Pharrell Williams and afrobeat-hip hop production by Atlanta duo Deep Cotton. The polished production and lines like "If you try to grab my pussy cat, this pussy grab you back (hey!)" indicate that Monáe wants her message taken seriously.
"Dirty Computer" ultimately comes full circle with varied lyrical themes and production. If the entire album was feminine sex positivity, it would be Cupcakke's. Moving up the tracklist, "Crazy, Classic, Life" is a groovy ode to independence. Monáe doesn't want to be the wife in a baby-boomer-style nuclear family or live on her knees. She doesn't want to be kicked out for saying she's "too proud." She just wants to live her life. It's not complicated.
Then there's "Don't Judge Me." The mellow, wowing bass and light strings in the backdrop signal a shift from energetic to solemn. The instrumentation sounds like if D'Angelo and The Vanguard added more electronic grooves to their 2014 masterpiece "Black Messiah." "Dirty Computer" isn't just about the message. Give credit to the album's producers for orchestrating wonderful instrumentals.
And sometimes, Monáe just wants to throw a queer dance party. A tribute to late pop-rock legend Prince, "Make Me Feel," is absent of political themes but celebrates Monáe's pansexuality, highlighting her flirtation with Thompson and Jayson Aaron. It showcases a relentless, ardent vocal performance and an undeniably catchy melody.
"Dirty Computer" is already among the year's best records. Monáe wasn't spending her five-year musical hiatus wasting time. She crafted something incredible, sweet yet stern and in all the right ways. Recording Academy, are you listening? We might just have your album of the year.