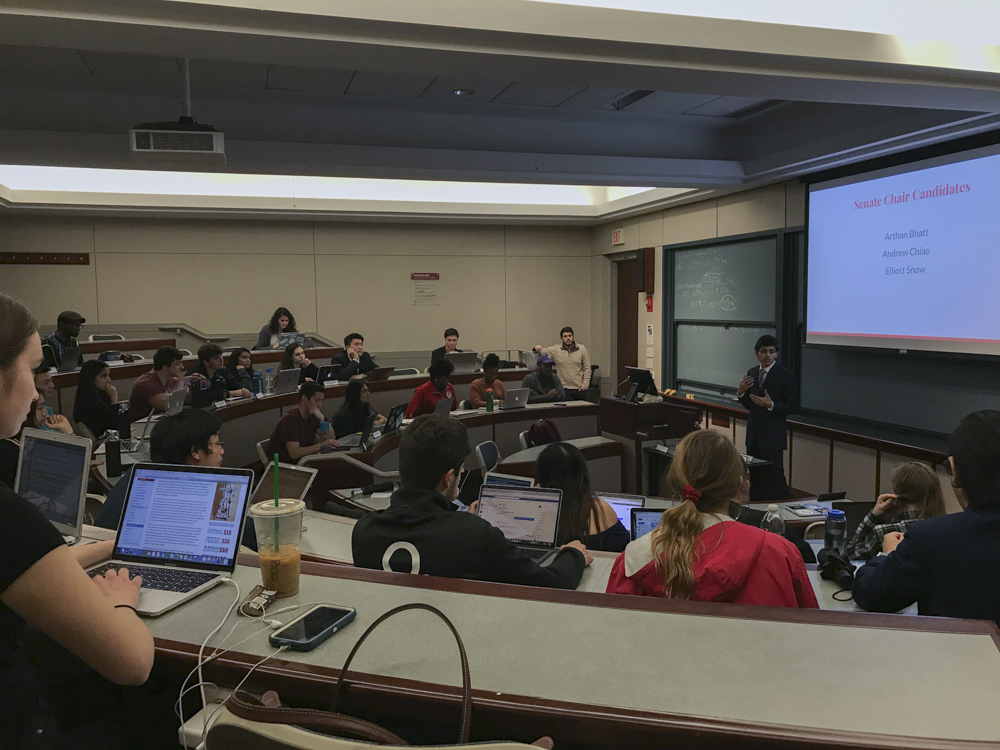 Boston University's Student Government met for the last time this academic year on Monday night, electing Andrew Chiao, a sophomore senator in the College of Arts and Sciences, as next year's Senate chair.
Devin Harvin addressed the Senate for the first time as next year's executive board president and promised to bring a "new energy" and "new excitement" to SG. He asked that Senate confirm John Hong, his nominee for judicial commissioner. The Questrom School of Business senior was confirmed unanimously.
Senators also voted to confirm Brigitta Call, a sophomore senator in CAS, as the co-chair of the Senators Aware Committee. SAC hopes to promote senator engagement and improve intra-Senate relations next year. Call was unanimously confirmed with 31 votes.
Vincent D'Amato, a freshman senator in the College of General Studies, said he stands behind Call's election as the SAC co-chair.
"I've spoken with her more out of Senate," D'Amato said. "She definitely has a lot of passion for what she does, and I have 100 percent faith in her that she'll get something done."
The candidates running to replace Octavio Vidal as Senate chair were, as announced last week, Chiao, College of Engineering freshman Arthan Bhatt and CAS freshman Elliott Snow. Each candidate gave a speech setting forth their goals as Senate chair, stressing transparency within Senate and the need for accountability between senators and their constituents.
Chiao was elected by an eight-vote majority.
Chiao said the position of Senate chair is akin to a "fifth member of e-board." He said his goal next year will be to meet with every member of Senate. He plans to attend e-board's Cabinet meeting Tuesday night and meet with e-board over the summer.
"The next goal is also to set up a quick training for new senators for next semester, as well as [to explain to them the] history of Senate," Chiao said.
Senate's last act of the year was to review and approve Rules Committee constitutional changes brought forward by Rules Committee chair Michael Meagher. Changes included grammatical corrections, the clarification of the Judicial Commission's role and a change to Senate's quorum rule.
The last meeting, while long, was both important and productive, Chiao said.
"It was good that we abstained or didn't cut out things irrationally," Chiao said. "I'm glad Senate went that way, and we left room for discussion. Plus, we're not removing things, just because that's a dangerous precedent to set. I'm glad that's how that went."
Julianne Leber, a senior senator in CAS, said she thought the meeting, though hectic, was the most productive of the year.
"Next year I won't be here, unfortunately, but I think that it is definitely in good hands," Leber said. "Hopefully, with new e-board and new amendments to the constitution, it will be more effective and reach more students."
Leber said she has seen Chiao's energy through working with him the past three years.
"He is … very dedicated to his position," Leber said, "and I think that he will be able to make Senate meetings more efficient while also making sure everyone is heard."
D'Amato said he thinks Chiao will bring productive change to Senate. He said he hopes to see Senate become an influential force on campus next year, helping students recognize its presence.
Vidal said he is excited to pass the torch.
"It is a little sad. I don't know what I'm going to do on Mondays now," Vidal said. "The fact that we had three people running this year — last year we only had two — it shows that more people are interested in holding these sorts of positions."
Isabel Owens contributed to the reporting for this article.