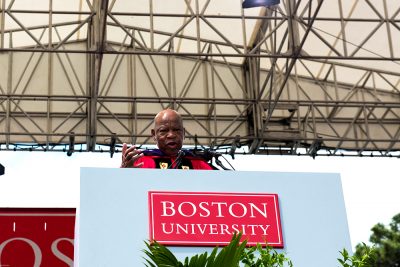 Over 7,000 students, among their family and friends, attended Boston University's 145th commencement ceremony at Nickerson Field Sunday afternoon.
Held 50 years after the Rev. Dr. Martin Luther King Jr.'s assassination, the ceremony explored themes of acceptance for both individuals and their peers. Speeches stressed the importance of reclaiming one's identity and learning to stand up for oneself.
Student speaker Yasmin Younis opened with a speech about her gradual growth into accepting herself, her name and her religion, as well as her identity and the critical role BU had played in this. She talked about how her journey at BU taught her many things, including the importance of "learning to unapologetically be you."
Younis, a 2018 graduate of the College of Communication, concluded her speech by giving a shoutout to Black Lives Matter and the Free Palestine movements, social causes that, she believes, deserve attention in today's political climate.
BU President Robert Brown then took the stage and addressed the crowd. He emphasized the important role the graduating class will play as alumni and how integral their contributions to the world will be.
"In the life of a university, faculty come and go, presidents come and go, but alumni are its constant, the unending link of its past, present and future," Brown said.
He then invited Mary Perry, the president of the BU Alumni Council, onto the stage.
Perry further discussed the importance of the alumni association and spoke about the important role respect plays in every individual's life and how the graduates will soon discover the different benefits of giving respect.
"The greatest benefit of all that comes from showing respect is how it promotes civility in discourse," Perry said. "… something we could certainly use more of in all walks of life today."
Brown then presented the Metcalf Awards for Excellence in Teaching to biology lecturer Elizabeth Co and global health professor James Wolff, and the Metcalf Cup and Prize for Excellence in Teaching to history professor Brooke Blower.
This was followed by the conferring of honorary degrees to filmmaker and journalist Vibha Bakshi, Mayor of San Juan, Puerto Rico, Carmen Yulín Cruz Soto, National Institute of Allergy and Infectious Diseases Director Anthony Fauci, filmmaker Zhang Yimou and congressman and civil rights leader John Lewis.
Lewis then gave the commencement address, inspiring students to make a difference, get into the good kind of trouble and stand up for their rights. He also spoke about the importance of acceptance.
"It doesn't matter whether we're black or white, Latino, Asian American or Native American," Lewis said. "It doesn't matter if we're straight or gay. We're one people. We're one people, we're one family, we're one house."
Lewis left the students with an optimistic message of hope.
"Be hopeful, be optimistic, don't get lost in the sea of despair," Lewis said. "But be bold, be courageous, and it will all work out."
2018 COM graduate Tiffany Topor said she was inspired by Lewis's words.
"John Lewis was so incredible," Topor said. "To be able to be empowered by such an important person in our history was just amazing."
Topor said she is optimistic for life after graduation.
"I think a lot of people are feeling like there's a tumultuous future, but it should be good," Topor said.
Several 2018 graduates, among them Jon Mirsky, of the College of Arts and Sciences, said they were both disappointed to leave BU but excited for what lies ahead.
"It's surreal that's for sure," Mirsky said. "It's sad, [but] it's exciting."
President Brown concluded the ceremony with a few words from King, one of BU's most famous alumni.
"The moral arc of the universe is long, but it bends towards justice," he said.