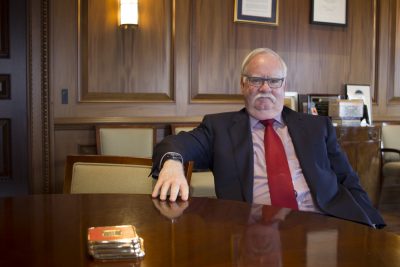 Boston University President Robert Brown has agreed with the Board of Trustees to extend his contract to include another five-year term.
Brown's contract was initially scheduled to end during the summer of 2020, after his third five-year term, Brown wrote in an email. The contract now runs through the summer of 2025.
The Board of Trustees asked Brown earlier this year if he would extend his contract, he wrote. After considering the issue and discussing it with his wife, Beverly, he decided to accept the extension, which was formally announced Wednesday.
Brown decided to stay because of his excitement about "the momentum Boston University has today" and his optimism for the future. Brown wrote that the university has made large strides in its educational programs, research and scholarship, and role in Boston.
"I think the coming years will be an exciting time for Boston University as we continue to expand our impact," Brown wrote. "I am honored to have the opportunity to be part of this future."
Brown came to BU in 2005 after serving as the provost of the Massachusetts Institute of Technology. In his time so far at BU, he has overseen the university's first comprehensive fundraising campaign and developed a strategic plan to improve the university.
During Brown's tenure, BU has risen to No. 37 in the U.S. News and World Report National University rankings.
Brown has demonstrated "strong leadership [and] a tremendous ability to be forward-looking and strategic in his planning," BU spokesman Colin Riley said.
"We're very fortunate to have his leadership, and it's recognized not only on campus, but far beyond," Riley said, "as you can see through the support and the rankings and the interest of prospective students and their parents."