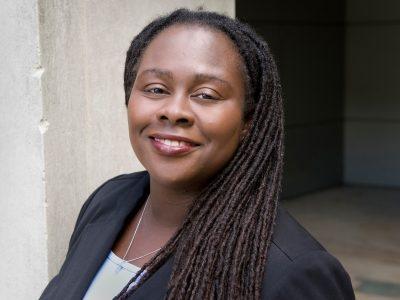 By Haley Lerner and Jenna Manto
Angela Onwuachi-Willig has been named the new dean of Boston University's School of Law. Onwuachi-Willig is coming to BU from the University of California, Berkeley School of Law, where she was the Chancellor's Professor of Law.
Onwuachi-Willig will officially start working at BU on Aug. 15, and the transition process will begin almost immediately, David Walker, a LAW professor and member of the LAW dean search advisory committee, said.
Onwuachi-Willig wrote in an email that she feels honored and lucky to be LAW's new dean. She added that she was drawn to BU because of its excellent academic reputation, its ambition and its rich history of diversity.
"The school's doors have been open to all, regardless of race, gender, religion, since its founding," Onwuachi-Willig wrote. "BU Law is truly a remarkable place."
She wrote that current LAW dean Maureen O'Rourke has provided excellent leadership and accomplished much during her tenure, including raising funds for scholarships and for the Sumner M. Redstone Building, which opened in 2014.
"I am excited to build upon her great work," Onwuachi-Willig wrote. "I am really excited to lead what is already an excellent law school and to collaborate with students, staff, and faculty in trying to take the school the next level."
Onwuachi-Willig wrote that previous positions have prepared her for her new role as dean, including serving as the president of the Grinnell College Alumni Council and serving on the college's Board of Trustees.
"My research and teaching experiences have given a good sense of the support that faculty need to do their jobs well, and my research and my own experiences as a student and professor give me tremendous insight on how to build and maintain a diverse and inclusive community," she wrote.
Her experience as an interdisciplinary scholar has given her the foundation to collaborate across disciplines and institutions, she added.
The new dean wrote she is most excited about joining BU's excellent community of passionate individuals.
"They are not happy just resting on their laurels," Onwuachi-Willig wrote. "They're smart.  They're committed to making legal education accessible and applying what they learn, teach, and study out in the society to make [our] world a better place  I couldn't ask for more."
The committee considered dozens of strong candidates for the position, Walker said, but Onwuachi-Willig stood out due to her scholarly successes, such as getting published in top law reviews and receiving a Ph.D. in sociology while remaining a full time professor of law.
Walker said that what drew the committee to choose Onwuachi-Willig was her commitment to scholarship, as well as to improving diversity and inclusion at BU.
"We're a community of scholars, and Angela is one of the leaders, if not the leader, in the area of race and the law," Walker said.
Walker also said Onwuachi-Willig stood out to the committee as an "institution builder," noting her involvement in national organizations that work toward improving diversity and inclusion.
"She's got a lot of energy and ideas, she's very smart, she's very ambitious, she's very hardworking and will help kind of push our faculty to the next level in terms of scholarship and curriculum and just everything we care about as a community," he said.
Ran Canetti, a professor of computer science in the College of Arts and Sciences and member of the dean search committee, said he thinks Onwuachi-Willig is a great fit for LAW and that she will push the school forward.
"She's an amazing scholar and she's really one of the true leading scholars in the U.S.," Canetti said.  "She's coming from a really top tier school. And also her work, she's very brave and groundbreaking in her work on discrimination, gender, race and all the different ways this comes about in our society and our legal system."