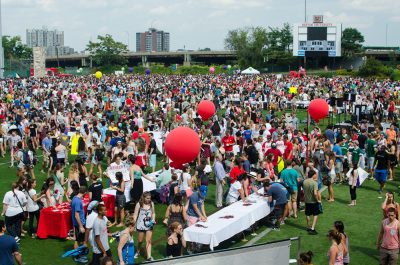 First-Year Student Outreach Project: Aug. 27–31
Want to get to know your new city while also serving the community? Then consider participating in FYSOP, a weeklong program focused on community engagement and service. You'll volunteer with three different community partners over the course of the week, while making new friends and learning how to use public transit in Boston. As an added bonus, students who participate in FYSOP get to move into their dorms a whole week early.
Matriculation: Sept. 2
Join your classmates to celebrate your enrollment at Boston University. After a procession of matriculating students from East to West Campus, students and parents convene at Agganis Arena, where President Robert Brown and university staff and administrators officially welcome the class of 2022 to BU. Other than commencement, this is the only time the whole class will be together in one place.
Splash: Sept. 15
Whether you're interested in Greek life, musical theatre, club sports or something else, you'll find plenty of opportunities at Splash. This event, hosted on Nickerson Field, gives new students the chance to explore the wide variety of student organizations available to them. Filled with food, giveaways and fun, this is your first introduction to student life at BU.
Weeks of Welcome: During September
For the first few weeks of school, the Student Activities Office puts on a variety of events to welcome students back to campus. Past activities have included an ice cream social, a "drive-in" movie at Nickerson Field and apple-picking at a local orchard. A perennial favorite is the performance by a "mystery guest" (last year's was comedian Hasan Minhaj).
Rhett Talks: Sept. 5, 10, 17 and 25
Started in 2013, Rhett Talks, held in the first month of school, are BU's take on the world-famous TEDx Talks. Three BU professors give three, 15-minute presentations, all centered around one theme, then the floor is opened to questions. Rhett Talks are a great way to hear about the work of some of BU's faculty and to learn about things that might not be related to your major.
Coffee and Conversation: Fridays during the school year
Join your peers to discuss important current issues town-hall style at the Howard Thurman Center for Common Ground, located in the basement of the George Sherman Union. Topics are announced on the HTC Facebook page in advance. Of course, coffee is provided.
BU Men's Ice Hockey: Late September–spring
Head over to Agganis Arena to watch BU's Division I hockey team compete against other schools in the Hockey East conference. With five national championship wins and 30 Beanpot titles, the Terriers are the team to beat in Boston.
BU On Broadway Performances: Late fall
BU On Broadway, one of BU's undergraduate musical theater groups, puts on productions during the year, showcasing some of BU's talented student actors, singers and dancers. They'll perform three shows this fall, including The Rocky Horror Picture Show and Big Fish. BU OB productions sell out quickly, so make sure to buy your tickets early.
Daily Free Press Open House: Early–Mid September
Come to The Daily Free Press office and learn all about what it's like to work at BU's independent student newspaper. Whether you want to write, work on a podcast or take pictures, there's something for everyone. Students are welcome regardless of major or level of experience.