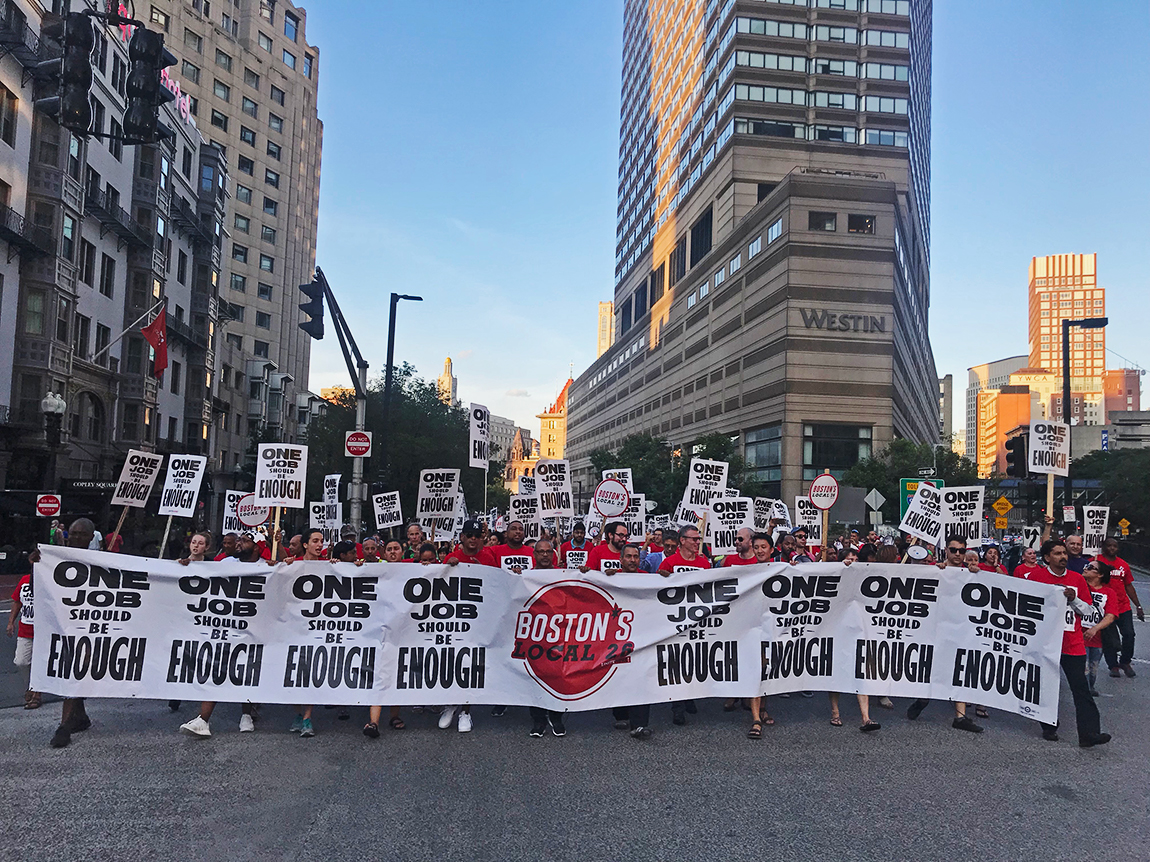 Members of the Unite Here Local 26 hotel and food service workers union took to the streets Monday to demand livable wages, improved working conditions and better benefits.
The Labor Day rally began with a picket line in front of The Westin Hotel in Copley Square before continuing in a march to the Sheraton Boston.
Union members and their supporters wore bright red shirts which read "One job should be enough," and carried matching picket signs as they chanted, "No contracts, no peace," and "If we don't get it, shut it down."
Local 26 Spokeswoman Tiffany Ten Eyck said that the rally occured because of a failure to come to an agreement on contract negotiations between the union and Marriott Hotels.
"[Marriott] is the largest and richest hotel company in the world and a major operator of hotels in Boston," Eyck said in an interview. "Hotel negotiations have continued all summer, and today, on Labor day, the traditional end of summer, we still don't have a deal."
Members of the union who are hotel workers said Marriott is not providing them with a liveable wage, which would allow them to live in the city, raise a family and "retire with dignity." The result of the contract negotiations will affect 5,000 hotel workers and almost 11,000 hotel rooms.
Mei Leung, a housekeeper for the Sheraton Boston Hotel, a Marriott franchise, for over 30 years, said she was rallying to show her employers that better contracts are needed."I want to fight for the good contracts for my co-workers," Leung said. "Our job is very hard. I am 71 years old, and I want them to give me retirement, but the bosses don't accept our requests."
Bob Bougreau, 68, has worked for 17 years as a bartender at La Meridien Cambridge, a Marriott franchise. He said the demands they are fighting for should be for hotel workers all across Boston.
"It's important to show the strength of our commitment for a fair contracts," Bougreau said. "We are far apart on a number of issues, but it has to come together quickly because contracts are running out."
This protest is part of an ongoing effort to obtain substantial compensation for their work, Eyck said. Workers are willing to do whatever it takes to obtain higher wages, she explained.
"They really feel like Marriott is capable and able to provide jobs that are enough to live on, and they are willing to do whatever it takes to make them listen and make them hear us," she said.
Brian Lang, president of Local 26, said that the ralliers would be persistent and that they had planned an act of civil disobedience.
"We are going to take over the streets, and we are going to take arrests," Lang said. "We are going to do that because we want to send the message that the Marriott has to stop treating hotel workers as servants."
Courtney Leonard, a cocktail server, was among those who volunteered to risk getting arrested.
"I have worked for the hotel for seven years, and they don't care about us," said the 28-year-old in an interview. "We should be able to live in the cities where we work and be able to provide for our families without having to work two or three jobs."
Those who volunteered to risk arrest sat in a large circle on Huntington Avenue and held hands in solidarity.
The Boston Police Department made no move to arrest protestors and instead allowed for a march to begin down Huntington Avenue. Members of the rally shut down Massachusetts Avenue before looping back to the Sheraton Hotel.
Marchers entered the hotel lobby with roughly 50 people making it inside before bicycle police officers managed to block more of the crowd from entering. While hotel guests were disturbed, the protests remained peaceful.
Lang used the impromptu event to announce that the union would hold a vote over whether to strike on Sept. 12. He delivered a final address before sending the crowd home.
"What we do depends on Marriott," Lang told the crowd. "If there is a strike, it is going to be one like this city has never seen."