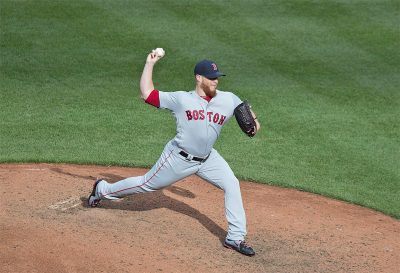 As of Sept. 5, the Boston Red Sox sit atop the American League East with a Major League Baseball-best 97-44 record. The New York Yankees trail by nine games, and the Sox eclipsed their win total from the past two seasons (93) on Sept. 1. They could play below .500 baseball for the remainder of the season and still break the franchise record for wins, 105 in 1912.
So why are Boston fans nervous?
As crazy as it seems, the concerns are valid. After a strong 11-2 stretch from Aug. 1-15, the Red Sox ended August on a 7-7 slide. Sandwiched between strong 6-1 and 8-2 victories this week, the Sox got blown out 8-0 by the lowly Chicago White Sox. What's going on?
If there is a silver lining to this skid, it's that the answer to that question is abundantly clear: the Sox pitching staff and the bullpen especially, have been struggling big time. Among the most notable issues has been closer Craig Kimbrel, whose usually minuscule earned run average hit 4.50 for the month of August. After nine saves in July, Kimbrel recorded only four in August, his lowest of any month this season.
Matt Barnes has also lost his touch in the second half of the season. In August, he allowed 10 earned runs and four home runs in only 9.1 innings, with batters hitting .308 against him. That won't cut it for the eighth-inning guy on a World Series contender.
And it hasn't just been the bullpen. Chris Sale hasn't pitched since Aug. 12. Nathan Eovaldi, after a promising burst of dominance upon his arrival in Boston, hasn't pitched into the sixth inning since Aug. 4. He allowed more than three runs in half his August starts, including a 2.2-inning, 8-run nightmare on Aug. 10. Rick Porcello has also been inconsistent, following up his splendid one-hitter against the Yankees with a four-inning, seven-run dud against the Toronto Blue Jays.
In short, the once-untouchable Red Sox pitching staff has seen better days. They've shown that they're human. And for a team that has failed to make it past the Division Series in two consecutive years, there has been reason for concern. For a month plus, there had been considerable doubt about the makeup and strength of the Sox's playoff rotation.
But not all hope should be lost. There have been bright spots of late.
After an abysmal July, Joe Kelly turned things around in August, improving in every statistical category. His July ERA was a rough 8.38, and his August clip ended at an impressive 1.42. The Joe Kelly Fight Club is still open for business.
David Price has also regained his step after a bit of a dip in July. In his first four starts in August (before his three-inning, injury-shortened start), Price went 3-0 with 30 strikeouts and only four earned runs in 27 innings. He is slated to start Friday against Houston.
After missing roughly a month and a half with an ankle injury, Eduardo Rodriguez returned on Saturday, throwing a Chris Sale-esque 5.2-inning, 12-strikeout gem. He provides a much-needed boost to the rotation.
And most importantly, the Red Sox have continued to hit. The Sox still own baseball's best team batting average (.268), slugging percentage (.455), and on-base plus slugging (.793). They're still averaging 5.41 runs per game and possess the two best hitters in the league in Mookie Betts and J.D. Martinez. Newcomer Ian Kinsler's bat has come alive recently, with "Bootsie" hitting .360 in his last seven games, including nine hits and six runs batted in. Xander Bogaerts has quietly put together a stellar season, hitting .281 with 19 homers and 89 RBIs.
Only time will tell if this Sox team is playoff-ready. They've got three weeks to work out the kinks in the bullpen and plenty of time to give their stars some rest. Every team goes through its ups and downs, and it was only a matter of time before the Sox showed signs of mortality. If anything, it should be a blessing that the team's skid came in August and not in October.
At the end of the day, this has been the best Red Sox team of my lifetime, and by season's end, it could be arguably the best ever. They have been on top since Opening Day and will finish with well over 100 wins. With Álex Cora at the helm, two MVP candidates in the lineup, the Yankees still trailing in the division and Chris Sale returning soon, I am optimistic.
As the Sox's social media tagline says, they will continue to #DoDamage, hopefully, all the way until we see Duck Boats rolling down Boylston Street.