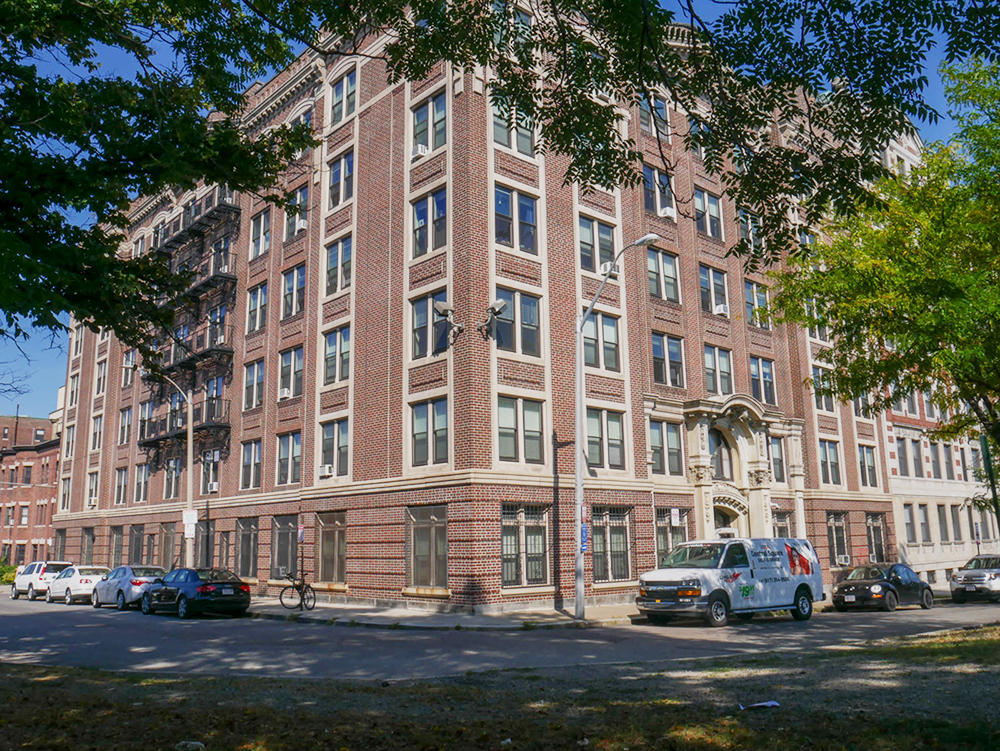 Over a dozen elderly women are facing no-fault evictions from Our Lady's Guild House, a rooming house in Fenway run by an order of Catholic nuns.
The boarding house, run by the Daughters of Mary of the Immaculate Conception and prominent Fenway-area realtor Marc Roos, is facing backlash from its elderly tenants who have been evicted on what they believe to be a basis of blatant age discrimination. Although the purpose of the evictions has not yet been made clear, both the Daughters and Roos claim they are not responsible for the evictions.
Helen Matthews, the communications coordinator at City Life/Vida Urbana, a community organization helping the long-term tenants fight their evictions, said in an interview that the women were told to leave by July 31.
"These are some really tenacious, older women who are taking their landlord to court and saying they're not going to go out like that," Matthews said.
On Aug. 25, approximately 100 protesters joined the older women to fight the evictions from the boarding house. The protesters delivered a petition with over 1,000 signatures to Roos' office door on Commonwealth Avenue.
Matthews said there is an eviction crisis across Boston, specifically hitting Kenmore, Fenway and the Boston University area. She said this crisis is "infecting" nonprofit and religious institutions like OLGH.
"There's an approach to the housing market that's trying to get as much money out of it as it can, regardless of the human cost, regardless what it means to low-income people, elderly people, disabled people and working families of color," Matthews said.
Sheila Dillon, chief of housing and director of neighborhood development for the City of Boston, said that the city is aware that many elderly women are being evicted from their long-term homes at OLGH.
"The City is assisting the tenants obtain necessary legal representation and in communication with the nuns that own the property," Dillon said in the statement. "We are hopeful that a solution can be found in the very near future."
Matthews said prior to the campaign against the evictions, the OLGH website stated that the home was for women between the ages of 18 and 50. The statement has since been removed.
Matthews said she believes the women have great public support and will win their fight against eviction.
"These women are fearless, courageous and they are leaders," she said. "They are waging one of the most amazing battles against eviction that I've ever seen in our city."
Mother General Carol Jennifer, the owner of OLGH, said in a statement that the mission of OLGH has been to provide short-term residence to female students, interns, young professionals and working women in the Boston area.
"While the Daughters' mission has never wavered, it grew increasingly difficult to maintain, due to the longevity of stay by some tenants who incorrectly viewed the facility to be permanent housing," Mother Jennifer said.
Judy Burnette, an elderly tenant who resided at the OLGH, has been leading the fight against the evictions. Burnette said she has been unable to find another affordable place to live.
"There is no place to go," Burnette said. "When we signed our leases from 2014 and every year since then, we all thought we'd be able to find affordable housing, but we were not aware of how out-of-reach rent has become."
Burnette said she thinks the evictions are occurring because Mother General Jennifer and Roos have conspired and want to "cash in" on the lucrative rental market in Boston and are acting in greed.
Lydia Eccles, another tenant facing eviction at OLGH, said the Daughters' mission originally included retired women, but now excludes them.
"They didn't say 'we don't want old people in the building,' but they've created a set of policies that will have the effect of excluding old women," Eccles said.
When Mother Jennifer took over the building, Eccles said that she made policies that got rid of the community room, exercise room and library.
This isn't the only discrimination Eccles said she has faced in her 2.5 years living at OLGH. When she first tried to rent from the building in 2015, when she was 62, she said the realtor representing Marc Roos asked her for her age. After stating how old she was, she was informed that the building did not rent to people over the age of 60.
Eccles, now 64, said she was "stunned" by the age policy.
"The mission was retired women, but now they're specifically excluded," Eccles said. "They're throwing long-term residents who were in stable housing onto the streets."