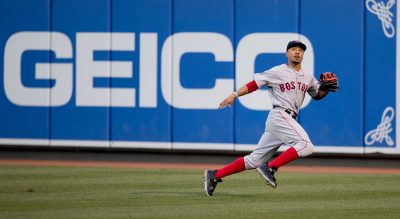 Baseball is a very cyclical sport. From its various seasons (spring training, the regular season, postseason and off-season) to its annual events like the All-Star Break, trade deadline and winter meetings, not much changes from year to year.
Even the debates surrounding the game remain mostly the same: who's the face of Major League Baseball? How should we handle steroids in the Hall of Fame? What does it mean to be the most valuable player?
This year, I am particularly interested in that final question: How do we define value? What's the difference between being the best and being the most valuable, and which deserves the MVP award? With an intriguing MVP race unfolding between Boston Red Sox teammates Mookie Betts and J.D. Martinez, I want to enter the conversation.
Sox pitcher David Price put it best last month when he opined that Betts is the league MVP and J.D. is the Sox MVP. In other words, Betts is the best, and Martinez is the most valuable.
Let's break this down.
On paper, it's a toss up. Even before the team finished its series against the Blue Jays Thursday, Betts has the edge in batting average, on-base percentage and on-base plus slugging and has 56 fewer strikeouts. Martinez leads in home runs, runs batted in, slugging percentage and hits. Both have MVP-caliber statistics, so the answer is going to have come from more than mere numbers.
What really makes Betts the best is his all-around talent. He embodies what the sport deems a "five-tool player": he can run, throw, field, hit for average and hit for power. And not only can he do all five, but he does them all at an elite level. Beyond just hitting well, Betts is fourth in all of baseball in defensive runs saved, has 28 stolen bases and leads all of baseball with a 9.8 WAR — wins above replacements, a tell-all stat that measures a player's value. In short, Betts is a dynamic baserunner, an excellent fielder and a dangerous hitter. From the beginning of the season on, he has been the best all-around player in Major League Baseball.
So how is Martinez, who is average (at best) in the field and on the bases, more valuable?
First and foremost, he filled a clear gap in the Red Sox lineup. Ever since David Ortiz's retirement in 2016, the Sox struggled to find a legitimate replacement — someone who could hit 30+ home runs, drive in 100+ runs and perform in the clutch. In his first year of a five-year contract, Martinez has done just that. With 41 homers and 121 RBIs after just 138 games, it's no secret that the guy can rake. He has solidified the middle of the Sox lineup and filled a Big Papi-sized hole that had been haunting the Sox. He is incredibly close to winning the Triple Crown — leading the league in average, homers and RBIs — something that hasn't been done since 2012.
But more importantly, Martinez has brought a rare yet crucial characteristic to the Red Sox: he makes everyone around him better. During his time in Detroit and Arizona, Martinez was known as a leader in the clubhouse. But "leader" does not do justice to the impact he has on his teammates.
Price elaborated on this dynamic, telling The Athletic's Ken Rosenthal, "How much better J.D. has made our team, it's not just by the home runs and RBIs and hits. It's what he does in the hitting meetings, in the dugout, in the video room. During games, he's talking to guys about their approach, what to look for against certain guys. You can't put a number on it."
Martinez has been referred to as the Red Sox's second hitting coach. Before, during and after games, he works with his teammates to improve their hitting. From the video room to the dugout, Martinez offers advice and feedback to everyone, including Betts. Sox skipper Alex Cora even credits Martinez with finding a flaw in youngster Rafael Devers' swing and helping him work on it. In hitters meetings, Martinez often takes the lead.
This is the epitome of value. Martinez doesn't just perform well himself, he elevates those around him. He's a unique type of leader.
At the end of the day, I still don't know who should win MVP. If Martinez does secure the Triple Crown, that will surely help his chances, but Betts still likely has the edge. Designated hitters rarely win the award as it is. And for whatever it's worth, Betts' initials are MLB.
Ultimately, it comes down to the question of value. If you were to take either player off the team, the Red Sox would not be this good. That's obvious. But what's more important to a team: a five-tool player who electrifies the lineup or a veteran slugger who makes his teammates better?
There is no correct answer. It depends on what a team needs and who you ask, and, unfortunately, MLB Commissioner Rob Manfred hasn't reached out to me yet. The only thing I do know for sure is that the Red Sox should be incredibly grateful that they've got both. I certainly am.