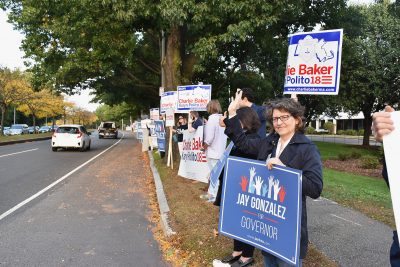 Incumbent Massachusetts Governor Charlie Baker debated Democratic challenger Jay Gonzalez Tuesday night at CBS Boston's WBZ-TV station, touching on the issues of green energy, transportation and corruption in the state police department.
While Baker and Gonzalez agreed that Massachusetts' criminal justice system needs to be reformed and alternative resources need to be integrated, the candidates differed in opinion on how to execute funding and allocation of those resources.
The 8 p.m. debate coincided with the Red Sox vs. Yankees playoff game, making Massachusetts residents choose between their passions for sports or politics. Mookie Betts stepped up to home plate for the first pitch of the game while Baker and Gonzalez took to their podiums for the first of three gubernatorial debates.
Moderator Jon Keller, a political analyst for WBZ-TV News, opened the debate with a discussion about the highly contentious confirmation of Supreme Court Justice Brett Kavanaugh and any potential threats to female reproductive rights due to his confirmation.
Baker said policymakers in the Commonwealth have already passed legislation to make sure that these rights will not be jeopardized in the future, at the state level, by federal policy changes.
The conversation moved on to the Merrimack Valley gas explosions and concerns about the safety of gas as an energy source, especially its affects on both individuals using it and to the planet.
"I strongly oppose expanding natural gas pipeline infrastructure in this state, and this is a big difference between myself and Governor Baker," Gonzalez said. "We need to move aggressively, much more aggressively, to a true clean energy economy."
Proposing new leadership initiatives, Gonzalez said he wanted Massachusetts to be the first state to adopt carbon pricing, and he also wanted the Commonwealth to focus on an accelerated transition to renewable energy sources.
"I do believe we are a leader in taking on climate change," Baker said, referring to an act signed in 2016 that allowed for the ability to use large amounts of hydroelectric power and offshore wind energy for use in the Commonwealth.
Baker said his administration has already provided alternatives to fossil fuels, such as hydroelectric power from Canada and "the largest offshore wind procurement in U.S. history."
Gonzalez questioned the measures Baker had taken to ensure residents' safety in the recent gas explosions in Lawrence, Andover and North Andover that killed one person and injured more than 20 others, citing a lack of inspectors as noted by the federal government.
"… the federal government told the Baker administration weeks before the Merrimack Valley incident that they did not have enough inspectors," Gonzalez said.
Baker said that Massachusetts' natural gas infrastructure is managed by both state employees and the federal government.
"And that federal government that came and reviewed the Massachusetts pipeline safety program gave us 50 points out of 50 points, a perfect score," he said.
The candidates then debated reforms to Massachusetts' transportation systems, which Gonzalez said was one of the "worst transportation systems in the country."
Gonzalez proposed a $3 billion plan to invest in education and transportation in Massachusetts, which, as Baker pointed out, $2 billion wouldn't start until Gonzalez's assumed second term, to which Gonzalez said is the "earliest" it could be implemented.
Baker also pointed out that the second part of Gonzalez's tax plan, which would allow for $1 billion each year starting in his first term, was originally proposed by President Donald Trump and the Republican Senate.
Although Gonzalez did not refute this claim, he said the plan, which would tax universities in Massachusetts on their endowments each year, would be "fair" and that they "can afford it," and that, in the end, it would make a difference to the people of the state, who he said need education and transportation reform.
Baker argued that he has already made great strides in repairing the transportation system in Massachusetts, compared to how it was when he first started in 2015. His said his administration was the first to create a fiscal management control board for the Massachusetts Bay Transportation Authority.
"The T didn't spend $1.5 billion in capital funds that were available to it," Baker said. "… Our plan is to spend $8 billion over the next five years on the MBTA, which will be $5 billion more than was spent in the five years before we took office."
Gonzalez said that Baker does not engage with commuters nor ride with members of the community first-hand, like himself.
"… I'm surprised that commuters haven't revolted and started a petition to change the name of these T passes from 'Charlie Card' to 'Where's Charlie Card,'" Gonzalez said, while holding up a plastic train pass.
In the final third of the debate, the candidates discussed criminal justice reform.
Gonzalez criticized Baker for his handling of corruption charges within the state police department. He stated that the issues were going on since Baker took office four years ago, but that others have said the governor took too long to respond.
Baker, however, said that members of the Democratic party have called Gonzalez's accusations and demands "political nonsense."
"That first string they started to pull, 19 months ago, that my opponent talked about," Baker said, "they actually had to do the work associated with determining where that went before they could actually submit the documentation to the attorney general and to the U.S. attorney, and they wanted to make sure they got it right.
"Well guess what? They did, and that's why people are pleaing out now and why the U.S. attorney is issuing arrest warrants for these guys, and they should."
The second gubernatorial debate will take place on Wednesday, Oct. 17 at 7 p.m. at WGBH Studios in Brighton.