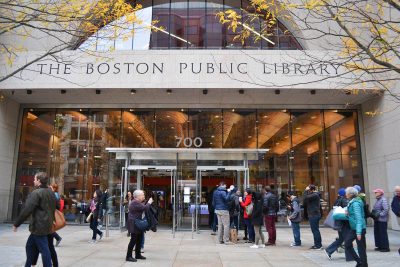 The Boston Public Library has been celebrating Hispanic Heritage Month, which started Sept. 15 and ends Monday, with a themed booklist, Latinx Life. The library also held cultural events around the Boston area.
The Latinx Life booklist is separated by nonfiction and fiction, and some of the genres listed include history and contemporary issues, biography and fiction. About 70 books are included in the list, and some are available in a Spanish translation.
Natalia Sylvester's book, "Everyone Knows You Go Home," included in the list, tells a story of crossing both the geographical and emotional border into the United States. Her fictional book wrestles with the themes of family and tradition.
A Latin American immigrant herself, Sylvester said she was always trying to establish a better sense of home when she was younger. After finishing the book, she said she concluded that home is "a fluid place."
"I think that's why our stories always should be heard and amplified in the same way," Sylvester said. "Our stories has always been necessary … but it really is kind of a long overdue spotlight on our Latinx experiences."
Sylvester uses her Instagram account to share the stories of Latinas who inspire her. She said by doing this, she aims to celebrate "the rich and diverse Latinx experiences."
Lauren Markham, a writer and journalist, wrote "The Far Away Brothers: Two Young Migrants and the Making of an American Life," which is also featured on the booklist. The story follows and reports on the experiences of two young brothers who immigrated from El Salvador to the United States and raised themselves.
Markham said she sees her book as a contemporary migration story in which the characters' Latinx identity is not all of the story and rejects generalizations. Instead, Markham said she focused on one of the many elements that form a truly human narrative.
In order to prevent generalizations, Markham said the booklist had a responsibility, as well, to provide literature with a diversity of experiences.
"The worst thing we can do is to make people think these kind of people have these kind of experiences," Markham said.
Teresa Dovalpage's book, "Death Comes In Through the Kitchen," featured in the fiction book list, combines a mystery fiction involving the 2003 Havana revolution with Cuban recipes. The recipes, according to Dovalpage, came from her grandmother.
"Food is really a important part of our culture and our heritage, so I collected these old recipes and weaved them into the mystery," Dovalpage said. "Mystery is a good artform to blend in culture and traditions for people to read."
Dovalpage said she was inspired to write about her birthplace that she lived in for 30 years after former President Barack Obama visited Cuba in 2016.
Alicia Borinsky, professor of Spanish and Latin American studies at Boston University's Frederick S. Pardee School of Global Studies, wrote in an email that she is "eager" to see more "canonical books" included in the list.
"It is good to look beyond immediate issues to understand how works of art and literature help us find what is lasting and trans-national in us," Borinsky wrote.
David Carballo, a professor of archaeology, anthropology and Latin American studies, pointed to the difference the "Latinx" definition makes.
"In Massachusetts, there's a big Brazilian population," Carballo said. "I don't know how much that's [been] represented because [of] some specific distinct definition and the way [the] term 'Hispanic' is being used. 'Latinx' tends to be a broader and more inclusive term."
The Library also hosted bilingual children's concerts and story walks to celebrate Hispanic Heritage Month.
123 Andrés, Latin Grammy-winning children's music duo, held a special bilingual concert series for this celebration. Their last performance was Saturday.
"I want [the children] to have a positive and fun experience through music and stories," Andrés Salguero, of 123 Andrés, said. "The culture is so present here and everywhere."
123 Andrés invited a couple of grandparents to come to the front to dance to the music as children and parents paired up and danced.
"One of the beauties about these events is you see intergenerational aspects of it," Salguero said. "Through music and through the language, these three generations can understand each other and pass on knowledge, pass on traditions, pass on cultures."