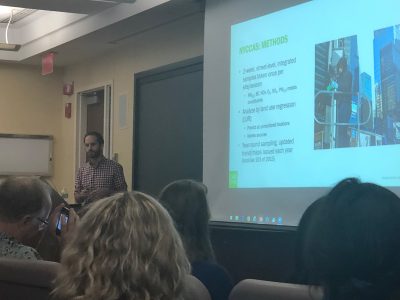 Faculty and students across campus and beyond are joining forces to fight the effects of climate change in Boston University's Climate Action Plan, which includes lowering emission rates on BU's campus to zero by 2040. The plan aims to hit the target 10 years ahead of the City of Boston's goal, according to BU Today.
With the help of the BU Initiative on Cities and the new BU Urban Climate Change Research Initiative, faculty and students across the university and beyond are joining forces to fight the effects of climate change
"We were formed to operate as a hub for urbanists on the BU campus and also help to build bridges between the scholarly work and research that's happening here and the work being done in cities," Katharine Lusk, executive director of the BU Initiative on Cities, said about the creation of IOC.
On Friday, the Initiative on Cities partnered with the Department of Environmental Health and the Frederick S. Pardee Center for the Study of the Longer-Range Future to host a talk entitled "Air Quality Data to Action: Case Studies and Strategies from New York City and C40 Cities."
The seminar featured Iyad Kheirbek, head of Air Quality at C40 Cities, at the BU Medical Campus. C40 is a network of cities across the world, including Boston, that are working to fight the effects of climate change and make urban areas healthier.
"C40 is a leader in urban climate action, and it's been increasing its scope over the last several years," said Patrick Kinney, professor of environmental health in the School of Public Health and co-director for the BU Urban Climate Research Initiative.
Kinney said he first met Kheirbek when they were both working in New York, when Kheirbek served as the air quality program manager at the New York City Department of Health and Mental Hygiene.
"His role is actually helping cities globally within the C40 network to develop these practices, methods, tools and technologies for monitoring air quality on the ground," Lusk said.
Friday's seminar was intended to help attendees understand what the global organization is doing to fight climate change and how Boston fits in, according to Kheirbek. He also talked about the work he did in New York to measure air quality.
"It's a way to potentially increase the scope of our impact of the work we do in Boston and kind of link it and feed it into a larger network," Kinney said.
Kinney said he believed there was a close connection among his company, the initiatives and BU students and said that "there's a lot of potential synergies between what C40 is doing and what our students and faculty are interested in working on."
"I think it's an exceptionally admirable goal," Samantha Shampine, a junior in the College of Arts and Sciences, said. "It's a precedent that will hopefully trigger a chain reaction amongst other universities, which will end up having a much larger environmental impact."
The Urban Climate Research Initiative will put its energy into climate change research with the help of experts from other disciplines across the university, according to Lusk.
Kinney said he and other faculty saw the various research projects being conducted to combat climate change across campus and wanted to create this coalition to solve urban climate change problems together. With the formation of the initiative, he said he hopes collective funding will allow for more progress.
"Students and faculty [could] get preliminary results, which could help them generate bigger research projects," Kinney said. "It will also fund some workshops for students and faculty. Creating this initiative will have an outward facing aspect that we hope will help increase the appreciation of what BU's doing."
With a climate action plan that was written by BU faculty and uses the latest work in climate mitigation analysis, Lusk said she believes the new initiative will make a large impact on the university and that the initiative will set a good example for other universities and cities across the world with climate change action.
"BU definitely seeks to be a national leader among university peers in climate mitigation," Lusk said. "We are at the forefront of the work that's being done in this space by universities."
CORRECTION: A previous version of this article incorrectly stated the BU Initiative on Cities helped establish BU's Climate Action Plan and provided incorrect context for quotes referring to the Urban Climate Research Initiative and the IOC. This version has been corrected.