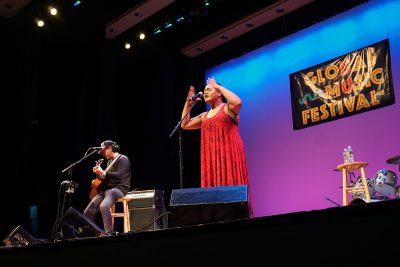 Musicians from Egypt, Hawaii, Puerto Rico and other parts of the globe united for two days of cultural immersion through song and dance at Boston University's inaugural BU Global Music Festival.
The festival, which was free and open to the public with prior registration, began Friday night and concluded the following evening around midnight. Performances were held both in the George Sherman Union and the Tsai Performance Center.
According to Sarah Collins, BU Arts Initiative assistant director and a coordinator of the event, the festival grew out of the initiative's "Signature Events" program, which hosts interdisciplinary art events.
"I think [this festival] matches so perfectly with everything that BU believes in, being global, being able to reach the community," she said. "Not only is this for BU students and faculty, but also to show what BU can do for the community."
In addition to the shows, attendees could explore a Global Bazaar set up in the GSU Plaza Saturday, featuring vendors from different countries who sold art, jewelry and other artisan goods.
Performances included Zhou Family Band from China, Palos de Peravia from Boston and the Dominican Republic, and Balla Kouyaté from Boston and Mali with Mamadou Diabaté from Burkina Faso.
Five of the bazaar's artists held workshops where they explained the behind-the-scenes work put into their goods and shared parts of their cultures. Hawaiian artist Kaumakaiwa Kanaka'ole hosted a workshop that included a short hula lesson, the traditional Hawaiian dance form.
One of the attendees, Joshua Curtiss, 19, of South Boston, complimented the range of musical diversity the festival provided.
"It's [a] good way of showcasing music," he said. "The school I go to, in the neighborhood, a lot of people listen to trap and hip-hop and rap, and that's nice, but sometimes you want to hear other stuff."
Although exposure to new music was a definite perk of the festival, the artists said they themselves felt like there was a deeper mission behind it.
For Kanak'ole, the festival provided an opportunity to celebrate her identity and culture.
"When you listen to these indigenous voices, it isn't entertainment," Kanaka'ole said during her performance. "This is the voice of a lifetime, of kinship and reliability. I could have chosen to deliver [my] message in English and be more mainstream and pop about it, but what good would that do us, to the integrity of our identity as an indigenous people?"
In an interview after her performance, she emphasized the need for greater cultural representation on the global stage through comparing the world to a box of crayons.  
"You want to use the whole box of crayons, not just a black or white one, there's so many colors," Kanaka'ole said. "That's why global community is needed — because we are a global community, we just don't like to admit it."
Egyptian artist Dina Elwedidi embraced the festival's global element in her performance in the Tsai Performance Center Saturday. Although the majority of her songs were in Arabic, she surprised the audience with an original composition blending her style with Bob Marley's "Cheer Up" in English, which people responded to by singing along.  
Following her act was Orquesta El Macabeo from Puerto Rico in the GSU Metcalf Ballroom. El Macabeo hosted another interactive performance, and many audience members eventually got out of their seats and began dancing and jumping to the upbeat Latin-style music.
Attendees older and younger than the college students in the audience joined in and danced as well.
Collins said that the BU Arts Initiative is hoping to make the Global Music Festival an annual event, and she hopes to see even more people participate in the coming years.
"We can't just expect community to happen," Kanaka'ole said. "It takes work, and this is the kind of work that it takes."