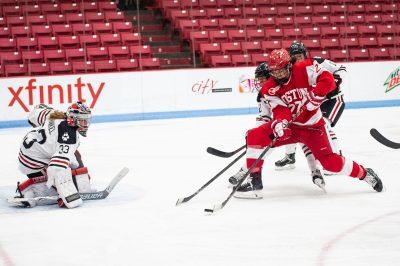 It's not every year a team graduates two of their top five career scorers. Although Victoria Bach and Rebecca Leslie no longer call Walter Brown Arena home ice, their impact still lives on within the Boston University women's hockey program.
BU head coach Brian Durocher said that both players are "unbelievably talented individuals" and that Bach and Leslie will be missed both on and off the ice.
But do the Terriers (0-1-1, 0-1-1 Hockey East) feel any different as a team without the two superstars?

"Not really," said senior defenseman and captain Reagan Rust."We're still the same hard-working group we've been in previous years and so excited to get out there."
Rust is joined by redshirt junior forward Sammy Davis and junior forward Natasza Tarnowski as captains of this squad.
Tarnowski recorded 14 points last season, doubling her point production from freshman year in a campaign that earned her the title as the team's most improved, and is the first true junior to wear the "C" on her sweater since Olympian Marie-Philip Poulin earned the honor in the 2012-13 season.
Rust matched a career high in points with 18 in her first season with BU after transferring from the Rochester Institute of Technology.
Although she served as an assistant captain last season, Davis sat out of play with an injury.
"Sammy's one of the accomplished people who was just under 20 goals as a freshman, so we know she can produce out here," Durocher said. "… She's back healthy. The back half of her sophomore year, she was a little [more] injured than anyone knew."
Despite not having a returning player who reached the 10-goal plateau last season, BU's squad returns three players that put up at least 20 points in sophomore forward Jesse Compher, redshirt junior defenseman Abbey Stanley and junior defenseman Abby Cook.
Among returners from last season Compher and Cook tied for the most with 26 points and Compher lead the pack in goals with nine.
Over the summer, Compher answered an invite to Team USA's Evaluation Camp.
Durocher mentioned that the Terriers will have to rely on Davis and Compher as they are the "two most accomplished offensive players." Durocher added Stanley, Rust and Cook as other players BU will need to rely on in the offensive game.
Through two games this season, six different Terriers found themselves with points, including Compher's freshman-year linemate sophomore forward Nara Elia, with Compher and Davis leading the team, each with two points. All three of the team's goals have been scored by a different player.
"If you get a bunch of players getting eight, 10 [or] 12 goals, you can make up for the loss of two great players," Durocher said.
Along with her offensive production, Cook will be backing BU's blueline.
While Durocher has previously stated he would not describe Cook as the "flashiest" player on the ice, she also pulled off maneuvers that caused him to draw a comparison to Boston Bruins-great Bobby Orr.
Cook — who has never missed a game in her two years as a Terrier — holds a plus 25 record over her career at BU, going plus 18 in her freshman year alone.
Last season, the Kelowna, British Columbia, native was named a Hockey East First Team All-Star and a New England Division I All-Star
Cook shared the New England recognition with Bach and Leslie, whom she spoke highly of.
"I learned a lot from Rebecca and Victoria," Cook said. "They were really good leaders … The way they played, they really slowed it down which helped to not rush out there. Even in the locker room, they both were very vocal, so that helped a lot, too."
Bach's senior season ranks among the best all time in Terrier history and cultivated in being named to the All-American, New England DI All-Star and Hockey East All-Star first teams and finished as a top-three finalist for the Patty Kazmaier Award, which is presented to the best player in Division I women's hockey.
Her success was not just limited to her senior campaign, as she became the first player in Terrier hockey history to record at least 20 goals in all four seasons.
Although BU did not beat Northeastern University last season, Bach reached a milestone no Terrier had before Jan. 16 when, with 3.3 seconds left in the game, she lit the lamp for the 93rd time in her career, placing her first on the all-time record for the Terriers.
Less than a month later, Bach recorder her 100th career goal in the Beanpot Championship against Boston College.
Leslie joined her linemate on the New England Division I All-Star first team and was also named to the Hockey East All-Star second team. She also helped rewrite the record books for the Terriers as she became the first player in BU history to record 20 goals and 30 assists in the same season.
She is also the all-time assist leader in Terrier history.
Although the Terriers are without two of its all-time great players, Durocher is still hoping that his squad will create "swagger."
"You've got to create your own swagger every year," Durocher said. "… Each year you find a new team, and I'm hoping we have enough solid pieces and solid leadership that we can create some swagger."