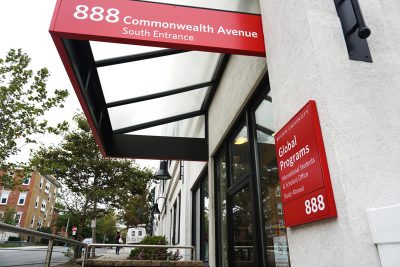 President Donald Trump's administration proposed a plan Oct. 17 to establish a maximum period of authorized stay for international students in their semi-annual regulatory agenda.
The new regulation, slated to take effect in September 2019, may change the way a student's status is processed once the student enter the United States, said Jeanne Kelley, managing director of the Boston University International Students and Scholars Office.
Rather than lasting for "duration of status," which means students can maintain their visas as long as they remain in school, Kelley said F-1 visas would have a specific expiration date under the proposed change.
Political science professor Lauren Mattioli said she thinks the proposed regulation sends the message that international students and people from other countries aren't welcome in a way they used to be.
"I think changing the system is necessarily going to introduce another layer of bureaucracy or another layer of red tape to what is probably already a cumbersome process for an 18-year or 19-year-old to access," Mattioli said.
Even if there is a proposed solution that allows students to reapply for a visa, Mattioli said the changes introduce a level of uncertainty and would make it difficult for students to know exactly what to expect.
Mattioli said the proposed change is in line with other changes the Trump administration had made.
"This is in line with the general Trump xenophobia, nationalism [and] resistance," she said. "[It's] basically just taking America from being what was proudly an immigrant nation and proudly international and cosmopolitan in nature to one that is more exclusive and xenophobic."
Members of the BU international student population said they have mixed feelings about the proposed changes.
Fuqiang Wang, a sophomore in the College of Arts and Sciences, said he thinks the proposed policy's effects will depend largely on the individual.
"If someone really needs the extension, they will focus on it and get the extension to their student visa," Wang said.
Valle De Lara Sigmund, an exchange student from Spain in the Metropolitan College, said she thinks countries are free to regulate visas as they wish, but that she believes everyone should have the opportunity to study abroad.
"I wouldn't think it's fair to not allow a student who wants to study a lot and he doesn't get the opportunity to come," Sigmund said.
CAS senior Anqi Zhao said she thinks the proposed change is discriminatory in nature.
"I think this change will make less international students come to America to study because a lot of us feel like this change is kind of aggressive," Zhao said, "so we kind of feel uncomfortable about this."
The ISSO pays close attention to student visa law processes, Kelley said, and will update the international student population if there are any changes down the road.
"If we got to a point where there was some proposed changes, not only would we be commenting on behalf of the university," Kelley said, "but we would be doing everything we possibly could to mitigate and ensure that any changes that go into place will not negatively impact our international student community."
Kelley said the proposal will have to go through extensive federal processes and still has a long way to go before it is implemented.
"Right now, it's just way too early to know if it will go forward, and if so, in what fashion or what the details will be," she said. "I certainly don't want to alarm students, because it may end up not happening. It may end up not being a very big deal."
Effects of the potential new regulation would not become apparent until 2020, Kelley said.